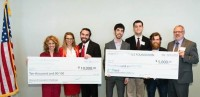 The Innovation Challenge allowed us to present to...investors as well. It was an exciting event, allowing us a great opportunity to grow our business...
DeLand, Fla. (PRWEB) April 08, 2015
Two student groups from Stetson University took first and second place in the 2015 Cairns Foundation Innovation Challenge.
First place winners are David Sawyer and Emma Campbell. Their innovative product/service is "TSOLife" an online platform that allows users to securely and permanently document the story of their life. For a one-time fee the company securely stores and hosts a user's information forever. First Place prize is $10,000 plus one year of resident enrollment at UCF Volusia County Business Incubator. Sawyer and Campbell plan to present TSOLife at the ENACTUS national conference in St. Louis, Mo., in April.
Second place winners are Christian Micklisch, John Salis and Nathan Hilliard, developers of "Xeres," a highly flexible, cloud reservation system that can be adapted to the needs of any business or university. Designed for ease of use, scalability and customization, the system allows users to change how and what they are reserving, and add or remove features as they see fit. Stetson's IT Department is currently using Xeres for reserving equipment. Second Place prize is $5,000 plus one year of pre-enrollment support at UCF Volusia County Business Incubator.
"The Innovation Challenge was one of the greatest opportunities I've had as a student," said Salis. "The variety of ideas demonstrated during the event was impressive, and having won a prize, I am left with a hunger for future success with my team's business idea."
Micklisch concurred. "The Innovation Challenge was an event that allowed us to present not only to judges, but to investors as well," he said. "It was an exciting event, allowing us a great opportunity to grow our business through the preparation and prizes that followed."
"The Cairns Foundation Innovation Challenge is an exciting event that enables students to present their business ventures to those who are well versed in the field of entrepreneurship," said Gary C. Oliphant, Ph.D., director of the Joseph C. Prince Entrepreneurship Program at Stetson University. "I am very proud of the effort and hard work the students put forth for this event. Three students who participated in the event were computer science majors, another was biology, and the other two students were business majors. This is a perfect illustration of the importance of a liberal arts education and the interdisciplinary nature of the entrepreneurship program at Stetson University."
Six universities participated in the event: Bethune-Cookman University, Daytona State College, Embry Riddle Aeronautical University, Florida International University, Stetson University and the University of Central Florida.
The Cairns Foundation was founded in 2003 by James L. Cairns to identify and give a life-changing boost to bright, creative young persons. It provides financial support to outstanding students, and through mentoring and funding aids young inventors to realize the technical and commercial successes of their creations.
About Stetson University
Founded in 1883, Stetson University is the oldest private university in Central Florida, providing a transforming education in the liberal arts tradition. Stetson stresses academic excellence and community-engaged learning, and consistently earns high national rankings. Stetson encourages its students to go beyond success to significance in their lives, the lives of others and their communities. Stay connected with Stetson on social media.