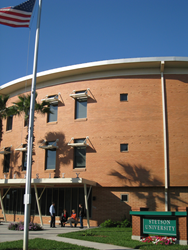 Change can be a scary thing, even to seasoned business leaders.
DeLand, Fla., (PRWEB) February 27, 2014
Stetson University will be hosting an intensive workshop focused on leading organizational change in today's complex, rapidly changing environment. The Agile Change-Leader Lab will be held March 17-18 at Stetson University's Center at Celebration.
Based on the book Leadership Agility, and led by Bill Joiner, co-author of the book, and Debbie Whitestone, participants in the workshop gain in-depth understanding of the practices that highly agile leaders use in their successful change initiatives.
"Change can be a scary thing, even to seasoned business leaders," said Greg McCann, director of Stetson's Family Enterprise Center. "This workshop is designed to help leaders navigate change; frame a compelling, clear initiative; and move quickly to gain stronger shared commitment and alignment."
Participants come to the workshop with an important change initiative in mind and work on it throughout the two-day seminar, honing their skills in leading change while doing critically important work on their project.
Through specific feedback and coaching that increases leadership agility, participants will leave with a rich action plan for an initiative that can better navigate today's challenging organizational environment.
A highly interactive, "roll up your sleeves," experience, the Agile Change-Leader Lab uses a new tool called the Leadership Agility Compass, along with focused peer coaching and an action guide to help participants apply learned principles to real-life initiatives.
This workshop is for managers who are responsible for leading organizational change or improvement projects of any size. In other words, most line and staff managers, including internal Human Resource, Talent Management, and Leadership Development professionals. This workshop is not for external coaches or consultants.
Find out more about this workshop or register at the Agile Change-Leadership Workshop registration page.
About Stetson University
Founded in 1883, Stetson University in Central Florida is an independent university that provides a transforming education in the liberal arts tradition. Stetson stresses academic excellence and community-engaged learning, and consistently earns high national rankings. In 1982, Stetson was awarded a chapter of the prestigious Phi Beta Kappa honorary society. The College of Arts & Sciences, School of Business Administration and School of Music are located at the historic campus in DeLand. The College of Law is in Gulfport/St. Petersburg. The university also has two satellite centers: the Tampa Law Center and the Stetson University Center at Celebration near Orlando. More information: University Marketing, 386-822-8920. Stay Connected with Stetson on social media.