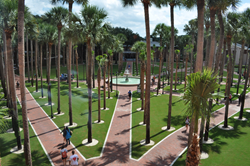 Stetson has made great strides over the past few years in attracting more excellent students who are a great fit for the institution.
DeLand, Fla. (PRWEB) August 25, 2015
Stetson University is ranked seventh in the Best Master's Universities category of the 2015 Washington Monthly College Rankings released Monday. This represents a jump of five places from Stetson's 2014 ranking of 12. Stetson ranked first among universities in Florida.
"At Stetson, we take pride in being recognized as an academically rigorous institution that places a high value on global citizenship, personal growth and social responsibility," said Stetson President Wendy B. Libby, Ph.D. "Stetson provides a personalized learning experience to each student, based on top quality faculty and focused on learning outcomes. We challenge our students to go beyond success – to become significant in their communities, nation and the world."
Washington Monthly's college rankings rate institutions based on three criteria: Social Mobility (recruiting and graduating low-income students), Research (producing cutting-edge scholarship and Ph.D.s), and Civic Engagement (encouraging students to give something back to their country).
"We are very pleased to be ranked so highly among our peers," said Libby, "and we are excited about the future. Stetson has made great strides over the past few years in attracting more excellent students who are a great fit for the institution. Then we fulfill our mission by doing a wonderful job in supporting those worthy students in their quest for higher education."
"Millennials and their parents are furious over the ever-rising price of college," said Paul Glastris, editor of Washington Monthly. "So it is no surprise that higher education is becoming a hot-button issue of the 2016 campaign season, with presidential candidates offering plans for 'debt free' and 'tuition free' college." But those plans won't work, Glastris notes, without stronger and more competent regulation from Washington.
In addition, Stetson University was named one of the Best 380 Colleges and Schools by The Princeton Review for 2016, and sixth on Princeton Review's list of schools with the best food, based on surveys of students attending the schools. Stetson students rated everything from their financial aid to on-campus food. Specifically, students mentioned the "welcoming atmosphere" that permeates the "stunning" campus, the "tight knit community," "personal growth," "intellectual development," "small class sizes," "individualized attention," and many "top-notch majors" including the "great political science department" and "great education program."
Stetson is also included in Princeton Review's 2016 Best Southeastern Colleges list and Best Green Colleges list, for its commitment to environmental education, environmentally responsible purchasing, efficient use and conservation of resources, minimizing solid waste and hazardous materials, and promoting a green campus design that incorporates plants native to Florida.
About Stetson University
Founded in 1883, Stetson University is the oldest private university in Central Florida, providing a transforming education in the liberal arts tradition. Stetson stresses academic excellence and community-engaged learning, and consistently earns high marks in national rankings. Stetson encourages its students to go beyond success to significance in their lives, the lives of others and their communities. Find more news about Stetson University on Stetson Today.