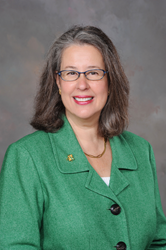 Stetson University's new M.Ed. program is committed to pedagogical practices that close persistent and growing opportunity gaps.
DELAND, Fla. (PRWEB) December 03, 2014
Stetson University President Wendy B. Libby, Ph.D., will be participating in President Barack Obama's second College Opportunity Day of Action on Thurs., Dec. 4, in Washington, along with the president, First Lady Michelle Obama, Vice President Joe Biden and U.S. Secretary of Education Arne Duncan, as well as business and education leaders, nonprofits and others committed to supporting more college opportunities for students across the country.
At the event, Libby will detail the commitment that Stetson University will make to further the goals of this initiative. In addition, Libby will take part in activities throughout the day aimed at building collaborations in communities to encourage college attendance and completion, investment in high school counselors as part of Michelle Obama's Reach Higher initiative, creating K-16 partnerships for college readiness, and increasing the number of college graduates in STEM fields.
The summit will end with participants at the White House for the annual Christmas tree-lighting ceremony.
This fall, Stetson launched a new major for graduate students, a Master of Education in Elementary Education: Educating for Social Justice, which strives to help teachers become more aware of and work with students who have challenges that may adversely affect them in the classroom. This degree, which Stetson is currently bringing on line, focuses on advocating for socially marginalized students in local and global societies. This theory to practice M.Ed. program is founded upon the commitment to pedagogical practices that promote closing persistent and growing opportunity gaps.
About Stetson University
Founded in 1883, Stetson University in Central Florida is an independent university that provides a transforming education in the liberal arts tradition. Stetson stresses academic excellence and community-engaged learning, and consistently earns high national rankings. In 1982, Stetson was awarded a chapter of the prestigious Phi Beta Kappa honorary society. The College of Arts & Sciences, School of Business Administration and School of Music are located at the historic campus in DeLand. The College of Law is in Gulfport/St. Petersburg. The university also has two satellite centers: the Tampa Law Center and the Stetson University Center at Celebration near Orlando. More information: University Marketing, 386-822-8920. Stay connected with Stetson on social media.