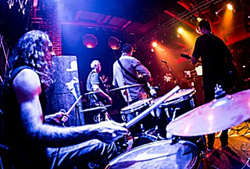 The Steve Miller Band has such iconic status here in California.
Palm Springs, CA (PRWEB) July 29, 2015
Brad Schmett, Broker Associate with Luxury Homes by Keller Williams today announced that the July 31, 2015 concert of the world famous Steve Miller Band in Rancho Mirage at the Agua Caliente Resort will boost luxury home sales in the area as attendees flock to the valley to enjoy the 9PM event.
The Steve Miller Band is considered American Rock Royalty, having formed in San Francisco in 1966 and remained one of the bestselling bands of the century from the San Francisco Bay area. The band has released some 18 studio albums, 6 live albums, seven official compilations and a minimum of 29 singles. Major hits include: Fly Like an Eagle, The Joker, Abracadabra and Rock'n Me.
Schmett recently remarked, "The Steve Miller Band has such iconic status here in California. They sound just as good now as they ever did and it is a real privilege to welcome them to Agua Caliente. This is their only tour appearance this side of Los Angeles so we expect a busy week as fans head to the Valley to spend the weekend and take in the concert. Our standing inventory of luxury homes has never been better and new listings are coming in every day. We are delighted to be on hand to welcome visitors."
The luxurious venue The Show at Agua Caliente offers accommodations for the disabled and valet parking. Fine Dining inside the Resort Casino makes for a perfect evening of dinner and a concert, with opulent rooms available for those who wish to stay over for the weekend. The sumptuous Agua Caliente Resort and Casino is conveniently located on Bob Hope Drive just off Interstate 10. Reservations are recommended.
For more information on the Agua Caliente Concert of the Steve Miller Band visit http://www.hotwatercasino.com/TheShow.
To find out more about investing in Palm Springs, CA real estate visit palmspringsrealestateinfo.com.
About Luxury Homes by Keller Williams: Luxury Homes by Keller Williams – Palm Springs, is an exclusive, elite and sophisticated group of real estate consultants raising the bar for service in the Palm Springs area residential real estate market.