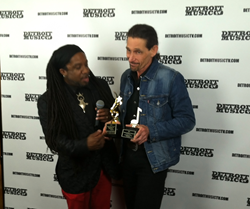 Scott is a creative force. Sam Pierre, Le Cri du Coyote
Detroit, MI (PRWEB) April 29, 2014
Steve Scott Country was one of the top winners at the 23rd Detroit Music Awards, held at the Fillmore in Detroit on April 25th. Steve Scott Country won Outstanding Country Recording with the album "Those Tears I've Cried" released on 10/15/2013 and also won the prestigious People's Choice Award with the single "I Think About You." The Outstanding Country Recording winner was selected by eligible Detroit's musicians and music industry professionals that participated in the selection and voting process. The winner of the People's Choice Award was selected by fans that downloaded their favorite song from a selected pull of songs (20 tunes in total) pre-selected by the Award's sponsor Opportunity Detroit.
Steve Scott Country recorded Those Tears I've Cried at Big Sky Recording in Ann Arbor and at Studio A in Detroit. The album was mixed by Al Sutton (famed producer and engineer of Kid Rock's Double Platinum mega smash hit "Devil Without a Cause") at Rustbelt Studios in Royal Oak, MI.
Steve's music is Country/Americana infused with rock, blues and bluegrass sounds that make his style unique. Steve calls it "Rustbelt Country." Since the release to radio on 11/4/2013 the album "Those Tears I've Cried" has had significant success. The album has charted Top 40 on the Roots Music Report Chart for PopCountry and Roots/Americana for several weeks. The Album charted Top 30 (#11) on the Jambands.com/Relix Magazine Radio Chart. The single "I Think About You" charted #30 on new music weekly country chart.
Further information about Steve Scott Country can also be found on the Steve Scott Country website, Steve Scott Country.