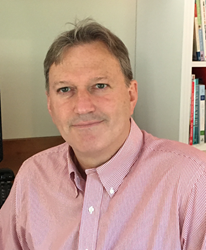 "Steve is a dynamic, hands-on leader who will help us build a world-class team and accelerate our growth." ~Phil Rosenthal, President of Fastcase
Washington, DC (PRWEB) June 12, 2017
Legal publishing company Fastcase announced today that Steve Errick will join the company's executive team on July 1 as Chief Operating Officer. He will be responsible for executing the company's strategic vision, developing new editorial products, and developing the company's organizational structure as the company expands.
Errick most recently served as Vice President and Managing Director for Research Information for LexisNexis. In that role, Errick oversaw the Legal Research Information Product Division, with a $1 billion P&L portfolio. He led LexisNexis's development of workflow tools such as Total Patent, Litigation Suite which included MedMal Navigator, E-book Digital Lending, Lexis for Microsoft Office, and Lexis Practice Advisor, and he shepherded LexisNexis's acquisition of Law360, Securities Mosaic, and Sheshunoff/AS Pratt Financial Services.
Errick is a veteran of the legal publishing industry, having served as Vice President and General Manager of Wolters Kluwer's CCH Publishing division, as well as the Publisher of Thomson Reuters's Foundation Press division and Director of Acquisitions of Thomson's Clark Boardman Callaghan division.
"We couldn't be more excited to have Steve join the team," said Fastcase CEO Ed Walters. "Fastcase is an increasingly complex company, with sophisticated legal data updating operations, multiple product lines and more than 100 employees in three offices – and we're growing all the time. Steve's deep relationships in the industry and his experience in managing legal publishing companies at scale will be important as we are becoming one of America's largest legal tech companies."
Fastcase also announced that it would begin editorial publishing starting in 2018 to expand the reach of its legal research service, which to date has focused exclusively on primary law such as case law, statutes, regulations, court rules, and constitutions. The company will launch it's own imprint of expert treatises, secondary material, journals and partner with its various State Bar Associations in developing new state workflow products to serve the state practitioner markets.
"Early in my career at West, my challenge was finding the best authors," Errick said. "Most recently at LexisNexis it was acquiring the best companies and building a product team to drive those businesses. And now, I get this wonderful opportunity to use these diverse experiences to help accelerate the pace of the most innovative company in legal tech."
Headquartered in Washington, D.C., Fastcase is one of the nation's fastest growing legal tech companies. Twenty-nine state bar associations have subscribed to Fastcase, as well as scores of the nation's largest law firms. More than 800,000 lawyers have a subscription to Fastcase, many through their state bar association. A recent survey of more than 2,100 subscribers to Clio showed that Fastcase is in a "virtual dead heat" for the most-used legal research service (Westlaw 20.58%, Fastcase 20.35%, and LexisNexis 20.21%).
Fastcase President Phil Rosenthal said that he was looking forward to Errick's role in developing the professional and management skills of the Fastcase team as it grows. "Steve is a dynamic, hands-on leader who will help us build a world-class team and accelerate our growth. Everyone who has worked with Steve knows that he is very loyal to his teammates and helps them to be their best. Great teams win, and Steve is going to help us make a great Fastcase team even better."
About Fastcase
Fastcase is a leading legal publisher focused on smarter legal software that democratizes the law. Using patented software that combines the best of legal research with the best of Web search, Fastcase helps busy users sift through the clutter, ranking the best cases first and enabling the re-sorting of results to find answers fast. Founded in 1999, Fastcase has more than 800,000 subscribers from around the world. Fastcase is an American company based in Washington, D.C. For more information, follow Fastcase on Twitter at @Fastcase or visit http://www.fastcase.com.