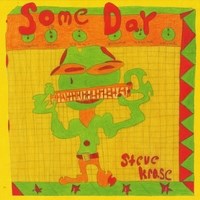 Some Day is an honest album and Steve Krase has got the feeling just right. - Bluesbunny
Houston, TX (PRWEB) September 27, 2013
Steve Krase has been a staple in the Houston music scene for the last 20 years and now releases his much anticipated sophomore album, Some Day. Steve learned to play harp by listening to James Cotton and J. Geils Band records. Living in Houston has allowed Steve the opportunity to work with such greats as the late Joe "Guitar" Hughes, Pete Mayes, Big Walter "The Thunderbird", and Jerry Lightfoot, for whom he spent 10 years as harp man. Steve released his first album, Easy Livin', in 2004. He has represented the Houston Blues Society twice in the IBC finals in Memphis and is a three time Houston Press Music Award nominee for "Best Blues" and "Best Instrumentalist." Krase, who also works with the great vocalist Trudy Lynn, is well-known for delivering high energy performances!
Some Day is largely driven by the five tracks penned by Krase's younger brother David, which provide different rhythms and haunting lyrics that allow Krase to expand vocally. In addition to the harp, Steve pays tribute to his boyhood idol Peter Wolf with rockin' covers of "Jealous Love" and "Did You No Wrong," and an upbeat version of Muddy Waters' "Why People Like That." "She Does It Right" is a unique take on the Wilko Johnson classic from Dr. Feelgood days. "Texistential Blues" is a tribute to the late and largely unheralded guitarist and songwriter, Jerry Lightfoot.
Some Day was recorded at Houston's historic Red Shack Recording Studios by Rock Romano. The album features Krase's dynamic harmonica playing and his intensity is matched by Houston guitar demon James Henry.
You can learn more about Steve Krase at http://www.stevekrase.com
For more information, images, or to arrange for an interview with Steve Krase, please contact Melissa Zeigler at Powderfinger Promotions: melissa(at)powderfingerpromo(dot)com.
Powderfinger Promotions–Independent Radio Promotion and Publicity. Since being founded in October 1994, Powderfinger has come to be regarded as a top indie radio promotion and publicity firm with ties across North America.