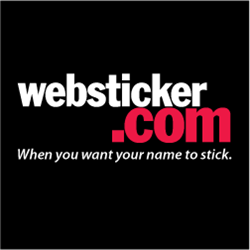 The purpose of this book is to show how every business and organization can take advantage of sticker promotion within their marketing strategies.
Stowe, Vermont (PRWEB) January 29, 2015
Jeff Nicholson, owner of custom sticker and label printing company Websticker.com (http://www.websticker.com) has released a new sticker marketing book titled, "Stick This! Using Promotional Stickers To Build Identity, Create Word of Mouth and Grow Sales".
"The purpose of this book is to show how every business and organization can take advantage of sticker promotion within their marketing strategies. The marketing power of stickers is often overlooked and underestimated and it's time to change that. Stickers are one of the least understood, most underutilized, yet most cost-effective marketing tools. In this book I reveal the secrets and tips that allow marketers to use this medium to its maximum effect and put this guerrilla marketing weapon to work," said Jeff Nicholson, owner of Websticker.com.
"Stick This!" covers a variety of topics related to marketing with promotional stickers including a brief history of stickers, sticker distribution methods and tips, the elements of great sticker design and a design checklist, how to use stickers as profitable products, the future of stickers, and more. The book includes numerous case studies and interviews with business owners and representatives from a variety of industries who have had success with using promotional stickers as a part of their marketing strategy. Jeff Nicholson also adds his insights about how marketing overall is changing, and how the core of effective marketing is better communication and forming better relationships. Stickers are one of the many available marketing tools that allow businesses to do so.
Jeff Nicholson has been in the sticker business for over 20 years and has extensive experience designing stickers, brainstorming sticker ideas, and helping people use stickers to build identity and promote their businesses, products, art, and ideas. He founded Websticker.com, a division of Freely Creative, Inc. based in Stowe, VT, in 1991. Nicholson believes that "any idea worth spreading is a sticker worth making."
"Stick This!" has received positive reviews from business directors, owners, and marketing professionals. It can be purchased on Amazon.com here: http://www.amazon.com/Stick-Promotional-Stickers-Identity-Create/dp/1631924567/ref=tmm_pap_title_0
About Websticker.com
Websticker.com is a marketing firm specializing in the design & printing of custom bumper stickers, decals, labels & magnets. They create high impact promotional stickers & profitable sticker products for businesses and organizations across the U.S. Based in Stowe, Vermont since 1991, Websticker.com goes above and beyond to save customers money and create the most powerful and effectively designed stickers possible and guarantees all work. Visit Websticker.com on Facebook at https://www.facebook.com/websticker and on Twitter at https://twitter.com/websticker.