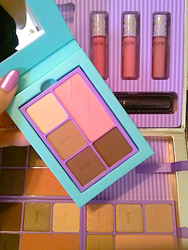 BeautyStat.com is offering readers complimentary samples of holiday makeup collections
New York, NY (PRWEB) October 22, 2014
November is nearly here and that means the holidays are around the corner. So are the newest makeup collections.
BeautyStat.com, the beauty influencer platform and beauty blog, prides itself on being one of the first to show readers these makeup collections. The editorial team has been busy reviewing, swatching and taking photos of these collections and now are ready to share.
Take a look at some of the collections linked below:
Nars Cosmetics Holiday 2014 Gifting Collection Review Swatches
Stila Holiday 2014 Review Swatches
Complimentary Samples: And be sure to enter to win a complimentary set of tarte cosmetics by clicking here> tarte cosmetics giveaway
BeautyStat.com is an online beauty influencer platform (that features makeup, skincare and haircare reviews). It has been featured in Women's Wear Daily, LA Times, New York Times, Forbes Magazine, NBC and CBS News. The strength of BeautyStat.com is its captive, engaged and influential 200,000+ community, 400+ blogger network and 40 million social network reach. BeautyStat.com works with beauty brands, retailers and PR agencies to connect them to the BeautyStat community for e-commerce, advertising and rich consumer insights.