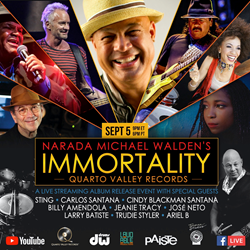 "Because he's such a great musician, he attracts the best… simple law of attraction" - Sting
SAN RAFAEL, Calif. (PRWEB) September 17, 2020
On Saturday, September 19 at 7PM PT/10PM ET, three generations of legendary artists will unite to celebrate the release of Narada Michael Walden's 18th solo album, IMMORTALITY on Quarto Valley Records (QVR). Presented by Laudable Productions, the livestream event features a lineup of conversations with Sting, Carlos Santana, Cindy Blackman Santana, Billy Amendola, Larry Batiste, and others who reflect on their long-standing relationships with Narada.
Watch here: http://www.youtube.com/c/OfficialNarada and https://www.facebook.com/NaradaMichaelWalden
The event will air again on Sunday, September 20, 2020 at 6 PM – 7:30 PM
Watch the trailer: https://youtu.be/DOiocTHJZwI
The virtual retrospective will give viewers a behind the scenes look at his expansive career as a drummer and producer, earning multiple GRAMMY Awards for his work with legends such as Aretha Franklin, Mariah Carey, Clarence Clemmons and Whitney Houston, just to name a few. The livestreaming event also incorporates the premiere of a new music video "We Can Live Forever," the lead-off track from IMMORTALITY, and a reprise of Narada's COVID-era collaboration with John McLaughlin, Carlos Santana and Cindy Blackman.
Broadcast partners include DW Drums, PAiSTe, Modern Drummer Magazine, and Quarto Valley Records.
"The superb musicianship and masterful production of IMMORTALITY are fueled at every beat by Narada's abundance of amazing energy. He is a true artist, in a class by himself," said QVR President & CEO, Bruce Quarto.
Multiple GRAMMY and Emmy-winning Narada Michael Walden released his dynamic new solo album, IMMORTALITY, on August 7, 2020 via Quarto Valley Records.
Before he became a mega-successful producer with hits constantly dominating the pop and R&B charts, Walden burst on the music scene as a virtuoso drummer with the groundbreaking jazz-rock fusion band Mahavishnu Orchestra. Soon after, his impeccable rhythmic chops and inveterate creativity made him a first-call drummer and collaborator for other instrumental heavyweights such as Jeff Beck, Tommy Bolin, Joe Zawinul, and Weather Report.
"IMMORTALITY is an album for that part of my fan base," Walden explains. "I love pop music, but I come from a world in which we mix it all up together – jazz, rock, pop, funk, soul and R&B. That's what fusion is all about. A lot of my early fans still want to hear me stretch out and fly, so this record is me drumming and singing and putting my heart out to them. People can hear the love that's inside of me when they listen to this record."
Walden, who plays both drums and keyboards on IMMORTALITY, produced and recorded the album at his own Tarpan Studios in San Rafael, California, with his longtime engineer, Jim Reitzel, and his astonishingly gifted band Thunder (keyboardist Frank Martin, bassist Angeline Saris and guitarist Matthew Charles Heulitt).
IMMORTALITY makes good on Walden's goal of making "a killer jazz-fusion/progressive-rock record," but it's also an album that was made to be performed live. "I was always thinking, 'We're going to take this music out to the people,'" he says. "I'm looking forward to playing with the band in the spring. It's going to be a love fest. My thing has always been to shake, rattle and roll with good spirits and electricity. I can't wait to get out there, play my drums and bring good times to all of my fans."
"Because he's such a great musician, he attracts the best…simple law of attraction" - Sting
"His whole purpose on this planet is to raise, uplift, and elevate consciousness." - Carlos Santana
About Narada Michael Walden:
Producing hits for artists as diverse as Aretha Franklin (including the platinum "Freeway of Love."), Steve Winwood, Ray Charles, Wynonna Judd, Whitney Houston, George Michael, Mariah Carey, Barbara Streisand, Lionel Ritchie, Lisa Fischer, Stevie Wonder, Tom Jones, Jeff Beck and The Temptations, the Emmy and multi-GRAMMY winner (Producer, Album and Song of The Year) has been at the helm of hit music that spans decades. His music flows freely from pop, rock and soul, to the rarified realms of jazz, fusion and world music. Walden was an integral part of introducing Whitney Houston (producing six of her seven #1 hits to break Michael Jackson's record) and mega-star Mariah Carey to millions of fans worldwide, producing and writing the breakthrough hits that first brought these divas to the spotlight. Billboard Magazine honored him as one of the Top Ten Producers of all time.
Facebook: https://www.facebook.com/NaradaMichaelWalden
Youtube: https://www.youtube.com/user/TarpanStudios
http://www.naradamichaelwalden.com/
About Laudable Productions:
The broadcast is produced by Laudable Productions, a creative agency that is pioneering new ways for artists and audiences to connect during the pandemic. Recent projects include Sweet Honey In the Rock's "Juneteenth | A Remembrance", which was streamed live from the Lincoln Theatre in Washington, DC; "Women Take The Stage", star studded celebration marking the passage of the 19th amendment; and "The Cocker Power Spectacular", a celebration of the 50th anniversary of Joe Cocker's legendary Mad Dogs & Englishmen tour.
About Quarto Valley Records:
Founded by tech entrepreneur Bruce Quarto, California-based independent label Quarto Valley Records represents diverse genres with an impressive roster of existing and upcoming releases featuring legacy artists and emerging talent including Paul Rodgers, Savoy Brown, Edgar Winter, Narada Michael Walden, The Immediate Family, Richard T. Bear, Deborah Bonham, Denny Seiwell and Dominic Quarto.
Facebook: https://facebook.com/quartovalleyrecords
Twitter: https://twitter.com/quartovalley
Instagram: https://www.instagram.com/quartovalleyrecords/
https://quartovalleyrecords.com/
Media Contact:
Michael Jensen and Erin Cook, Jensen Communications, 626-585-9575, erin@jensencom.com