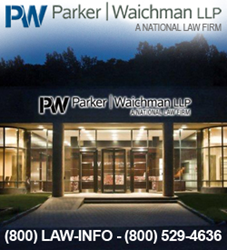 New York, New York (PRWEB) March 06, 2014
Parker Waichman LLP, a national law firm dedicated to protecting the rights of victims injured by defective drugs and medical devices, reports that the first St. Jude Riata Bellwether cases are scheduled for February 3, 2015. According to a Scheduling Order filed on January 24, 2014 in the U.S. District Court for the Central District of California, Southern Division, Plaintiffs Calise and Thompson have been chosen as the bellwether cases (Case 8:13-cv-00383-JVS-AN). The Order, which was issued by the Honorable James V. Selna, also indicated that the pre-trial conference date is set for January 12, 2015 and fact discovery will remain open until October 21, 2014.
According to a Joint Status Conference report dated February 24, 2014 (Case No. BC504934, Superior Court of the State of California City and County of Los Angeles), St. Jude's Riata defibrillator leads are allegedly defective because they have a tendency to fracture and malfunction. The Riata Implantable Cardioverter Defibrillator (ICD) Lead was recalled on November 28, 2011 due to premature erosion of the insulation around the electrical conductor wires, known as insulation failure. According to a U.S. Food and Drug Administration (FDA) Safety Communication, devices deliver electrical current to an implanted cardiac defibrillator, and if the lead fails, then serious consequences may occur.
The Plaintiffs chosen for the Bellwether cases are described in an Order Denying Defendant's Motions to Dismiss and Granting in Part and Denying in Part Defendant's Motions to Strike (Case 8:13-cv-00383-JVS-AN, U.S. District Court for the Central District of California). Plaintiff Michael Thompson was implanted with the Riata lead in 2004 and, in 2012, his doctor informed him that the wire was failing and needed to be replaced. The lead was removed through a laser abstraction on June 18, 2012. Mr. Thompson alleges that he suffered injuries as a result of the defective lead, including damages related to multiple fluoroscopy procedures, extrusion of the conductor, compromised lead insulation, increased lead impedance and electrical abnormalities.
The other Plaintiffs are Paul and Rose Calise, with Rose Calise being the Representative of the Estate of Daniel Calise. Daniel Calise received a Riata lead on December 13, 2005. He suffered cardiopulmonary arrest and died on September 6, 2011, allegedly due to the failure of his Riata lead. Following his death, the Riata lead was found to be abraded, and Plaintiffs allege that the abrasion caused his death.
As noted in the FDA Safety Communication, according to St. Jude Medical, as of 2011, approximately 79,000 Riata leads remained implanted in US patients.
Parker Waichman LLP is dedicated to fighting for the rights of patients injured by St. Jude Riata leads. The firm continues to offer free legal evaluations to individuals who were injured after receiving Riata leads. For more information, please visit the firm's St. Jude Defibrillator Lead page at yourlawyer.com or call 1-800-LAW-INFO (1-800-529-4636).
Contact:
Parker Waichman LLP
Gary Falkowitz
Managing Attorney
1+ (800) LAW-INFO
1+ (800) 529-4636
http://www.yourlawyer.com