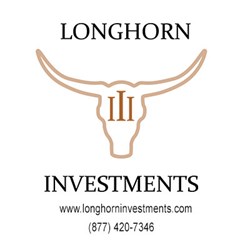 When we do a loan we want our borrowers to succeed and then come back and do it again.
Dallas TX (PRWEB) January 31, 2014
Direct private lender, Longhorn III Investments, LLC has hired multiple lending consultants to help expand their footprint in the St. Louis real estate market. The consultants' focus is to help educate borrowers in regards to the benefits of using hard money when purchasing investment property.
Longhorn III Investments is maintaining its focus on developing strategic relationships in the local St. Louis investment market. St. Louis Loan Consultants, Lawrence Hopkins & Wende Conwell have joined the Longhorn Investments team. Over the past year, Longhorn has made significant inroads in the local market and feels that 2014 will be a very big year as these relationships continue to bear fruit.
"In order to make proper inroads to the market, we must have an effective product as well as efficient method of communicating with the market," said Ryan Kimura, VP of Sales & Business Development of Longhorn III Investments, LLC. "The experience, credibility, and relationships of our local representatives is key to sustained growth in any market. The quality of our staff will allow us to expand our lending operations in the St. Louis market in 2014"
Hard money lenders have varying philosophies when it comes to their borrowers. Longhorn III Investments, LLC describes themselves as somewhat of a partner in the real estate transaction.
"Most money on any given deal is the lender's money. When we do a loan we want our borrowers to succeed and then come back and do it again. Our foreclosure rate is less than ½ of one percent due to our focus on making sure our borrowers are set up properly from the outset", stated Michael Hoffman, CEO and founder. "Additionally, we have a title company and law firm that allows us to be a unique Texas hard money lender, Missouri hard money lender and Oklahoma hard money lender. We are a one stop shop for real estate investing services which makes us a highly qualified partner that most other companies can't compete against."
"I have been in the hard money lending industry for years and believe in the value that they bring to real estate investors," stated Lawrence Hopkins, St. Louis Loan Consultant at Longhorn III Investments. "Since 2008 hard money lenders have been very limited in St. Louis. That is the reason why I am so excited to see a company like Longhorn Investments bring their product to St. Louis. I know that there is a need for a St. Louis hard money lender that is willing to finance rehab costs and I am just excited to be one of the representatives that gets to share this great loan product with the St. Louis real estate community."
"Real estate is a new and excited career for me," stated Wende Conwell, St. Louis Loan Consultant for Longhorn III Investments, LLC. "I have a great prospective on hard money loans for potential clients in St. Louis because I am a borrower of Longhorn myself. Longhorn allows me to work on my real estate investing business along with representing their St. Louis hard money loan product and thus it allows me to have a unique view when discussing hard money loans with interested real estate investors. I truly believe hard money lenders like Longhorn have been key to the success of my real estate investing business. I just hope I can share that success with others."
ABOUT LONGHORN III INVESTMENTS, LLC
Longhorn III Investments, LLC corporate office is located at 17950 Preston Road, Suite 230 Dallas, Texas 75252. They can be found only at http://www.longhorninvestments.com. Longhorn III Investments currently offers Texas hard money loans, Missouri hard money loans, Oklahoma hard money loans and has access to almost $25MM in capital to lend from its sister private equity fund, Trident Realty Investments.