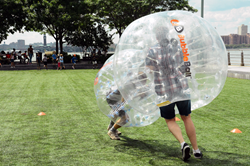 St Louis, Illinois (PRWEB) June 06, 2016
Bubbleball Inc., the original and leading national provider of highest quality bubbleballs in the U.S., announces its arrival in St Louis. What exactly is bubbleball? It's a whole slew of games. Its most popular game so far being bubble soccer. Think regular soccer, except bubble soccer is a novice game played inside safe, giant, human air bags - known as bubbleballs. Fun for all ages, players run, jump, flip, bounce, and bump into each other in a wild attempt to score and knock each other down.
Groups and individuals can play with BubbleBall in St Louis at All American Sportsplex, located at 3596 George St. Highland IL 62249. "We're very happy to be partnering with St Louis BubbleBall, they are great people dedicated to providing the most fun in the safest format," says Mahdad Taheri, Founder and CEO of Bubbleball Inc. "We are excited to have teamed up with BubbleBall Inc. to be our partner as we move forward with BubbleBall soccer," says Scott Stieb, owner of BubbleBall St Louis, "They were the key in providing an exceptional experience when enjoying BubbleBall soccer and have been fully committed to providing us with the best products and experience moving forward."
Scott says they are looking forward to establishing themselves as the premiere BubbleBall soccer company in the Metro East and St. Louis markets. Going forward, they will be teaming up with local venues to provide the BubbleBall experience to all those looking for a new and energetic sport for birthday parties, team building, fundraisers, promotional events, bachelor/ette parties, pick-up games, and leagues.
Reserve to play bubbleball in St Louis, zombieball, bubble football, and sumo smash. Try out what it really means to be the ball.
About St Louis BubbleBall
----------------------------------
All-American SportsPlex is a premiere indoor training and recreational facility. We have provided a great venue for training as well as including fun and energetic sports to keep the fun in fun.
About Bubbleball Inc.
-------------------------------
Bubbleball Inc. ("BubbleBall") is the leading U.S. distributor of inflatable bubbleballs and associated products. Determined to bring the joy and safety of bubbleball to the entire country, the company elevated a new industry with its U.S. launch in 2014. It ships products across the country via its online shop at shop.bubbleball.us and is currently developing a national network of highest quality operating partners.