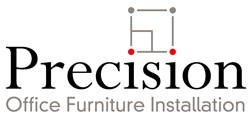 The walls offer excellent acoustic qualities, in terms of noise reduction, and can be easily moved in the event of future renovations.
St. Louis, Mo (PRWEB) August 01, 2013
St. Louis office moving company, Precision, is happy to announce they recently completed a large office furniture installation job for St. Louis based company Altisource. This was a union job that was completed in 10 working days. Precision worked hard installing 165 telemarketing stations, 97 other working stations, 15 private offices, a boardroom, conference rooms, training rooms, and seating areas. Precision also installed wall-mounted TV's throughout the facility.
Precision offices furniture installation has done many other amazing jobs in the past, such as installing more than 1,000 workstations at Scott Air Force Base in Belleville, IL, they installed 1,000+ linear feet of Teknion Altos floor-to-ceiling glass walls with 61 glass swinging doors for the FDA in the Central West End, and played a big part in the remodeling of the St. Louis airport which was destroyed by a tornado.
John Kiel, Executive Vice President of Precision Office Furniture Installation previously spoke about the airport job saying, "This project was not only an opportunity for us to build beautiful-looking areas in a major airport, but also to provide the most modern technical advances in remodeling construction."
Kiel also said, "The walls offer excellent acoustic qualities, in terms of noise reduction, and can be easily moved in the event of future renovations. Since many of the parts can be reused, we've provided a long-lasting and adaptable remodeling solution."
Precision Office Furniture takes pride in their work, not only because of the quality of the installation. But, they also take pride in their work, because they always try to use parts that are reusable, promoting environmental responsibility.
For more information on Precision and their work in the St. Louis area, visit stlouisofficefurnitureliquidation.com or call 314-383-6454.
About Precision Office Furniture Installation:
Precision Office Furniture Installation provides union and non-union installation services for office furniture installations and reconfigurations, commercial furniture and equipment installation, hospitality and FF&E installations, educational furniture, library furniture and healthcare furniture installations. Precision has over 27 years of broad-based installation and project experience, for local and nationwide projects, connections for complex moves and corporate relocation, and one of the largest talent pool and most experienced management-level team in the industry. Together, these skills and service offerings provide a seamless, cost-effective, and highly coordinated response to all office furniture and equipment installation and relocation needs.