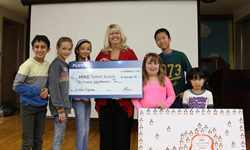 We want to make a difference in children's lives today and help build an innovative workforce for tomorrow. ST Math helps us do that.
Irvine, Calif. (PRWEB) December 18, 2014
The MIND Research Institute today announced a $150,000 grant from Fluor Corporation's giving arm, the Fluor Foundation, to bring an innovative blended learning math program to 2,286 students at four schools in Irvine, Calif., and 1,518 students at three schools in Dallas and Houston, Texas.
Fluor, an engineering and construction company, which has a 102–year legacy operating in Orange County, has made gifts to support MIND's ST Math® program in local schools since 2007. This grant marks a ten-fold increase in giving from Fluor's previous gift, expanding Fluor's support of ST Math to include Texas, where Fluor is now headquartered, and elevates Fluor's partnership with MIND to the national level.
"MIND Research Institute's ST Math program provides meaningful, measurable impact on educational outcomes for students, making MIND an ideal partner for Fluor," said Torrence Robinson, president of the Fluor Foundation. "We want to make a difference in children's lives today and help build an innovative workforce for tomorrow. ST Math helps us do that."
Last year, the Business Roundtable, a group of CEOs of leading U.S. companies including Fluor, reviewed more than 100 educational programs seeking those with the greatest potential to prepare students for college and the workplace. BRT named five proven and scalable programs that its members could help scale up, and that list included ST Math.
Developed by neuroscientists, MIND's ST Math instructional software provides visual, computer-based math games that support deep understanding of concepts covered by state math standards at each grade level. The self-paced games are designed to be as accessible for children struggling in math as they are challenging for gifted children. A recent study of students across California using the program found that when an entire grade level fully implemented ST Math, they increased the percentage of students scoring proficient and the percentage scoring advanced on the California Standards Test. The program also includes teacher training on how to connect the games to their classroom math curriculum, and year-round educational support.
"We're grateful for Fluor's longtime support of MIND Research Institute, and particularly for this new gift that solidifies their commitment to solving the nation's math crisis," said Matthew Peterson, Ph.D., CEO, co-founder and senior scientist at MIND Research. "Fluor is impacting a socially, economically, and geographically diverse group of students and teachers, and all of them will benefit from deeper, more conceptual learning thanks to this grant."
Fluor is among several donors providing funding to help the Irvine Unified School District roll out ST Math to all 30 of its elementary schools. Fluor's grant specifically benefits four Irvine elementary schools: Culverdale, Northpark, Springbrook and University Park. In Texas, the grant benefits KIPP Legacy, KIPP Sharp in Houston and Uplift Heights Preparatory in Dallas.
The grant provides the schools with access to ST Math, as well as training to prepare teachers to successfully incorporate the computer-based games into their existing math curriculum as part of a blended learning environment. Additionally, schools receive year-round support from MIND's team.
About Fluor Corporation
Fluor Corporation is a global engineering and construction firm that designs and builds some of the world's most complex projects. The company creates and delivers innovative solutions for its clients in engineering, procurement, fabrication, construction, maintenance and project management on a global basis. For more than a century, Fluor has served clients in the energy, chemicals, government, industrial, infrastructure, mining and power market sectors. Headquartered in Irving, Texas, Fluor ranks 109 on the FORTUNE 500 list. With more than 40,000 employees worldwide, the company's revenue for 2013 was $27.4 billion. Visit Fluor at http://www.fluor.com and follow on Twitter @FluorCorp.
MIND Research Institute
MIND Research Institute is a neuroscience and education social benefit organization, dedicated to ensuring that all students are mathematically equipped to solve the world's most challenging problems. MIND's distinctive visual approach to math and problem-solving is the basis of its innovative, research-proven ST Math® programs for elementary and secondary schools. MIND's programs currently reach over 800,000 students and 31,000 teachers in 2,500 schools in 40 states. For more information, visit http://www.mindresearch.org.