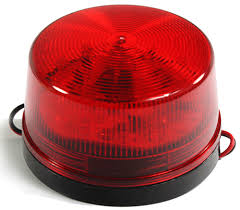 Strobe lights and sirens are an added security system feature that are almost guaranteed to deter burglars from trying to enter your home.
Austin, Texas (PRWEB) November 09, 2013
When homeowners are looking for ways to add extra protection to a home in terms of security, two great ways are through the addition of sirens and strobe lights. When a siren or a strobe light is included as part of home security systems, it often scares away would-be burglars, and also alerts everyone in the area that something is happening. Sirens provide an auditory deterrent, while strobe lights provide a visual deterrent, and they can also help authorities locate a home more quickly in the event of an emergency.
SecuritySystemReviews.com, a site that provides comprehensive home security system reviews of top companies, such as Lifeshield reviews, has created a list of tips for homeowners who are contemplating the installation of sirens and strobe lights.
1. It's a good idea to install both an indoor siren and an outdoor siren as part of a security system. It's also a good idea to select the loudest available siren.
2. If a homeowner opts to only use one siren, as opposed to two, it's best to install it outside of the home, and near the front, because it will better alert neighbors and passerby's of an emergency.
3. During the installation of strobe lights as part of home security systems, it's best to make them visible from every side a home. This will make them more effective when it comes to scaring away a potential intruder.
4. As with every component of home security systems, it's a good idea to test sirens and strobe lights every few months to ensure they're working properly. Due to the nature of sirens and strobe lights, before performing a test, it's a good idea to alert all neighbors that a test will be occurring.
5. Check with the officials in the city or county in which you live, to determine their specific rules about noise ordinances. There may be guidelines in place that dictate the type of sirens that can be installed in a residential home.
For homeowners looking to increase home security even beyond what's provided by a traditional security system, sirens and alarms may be a great option. Many home security companies also offer these options as part of their security packages, making them a great option, particularly for residents who live in rural areas.
About SecuritySystemReviews.com
SecuritySystemReviews.com is an independent, third-party site that provides reviews and information pertaining to the home security industry. The site provides reviews of the top companies on a state-by-state basis, so whether a site visitor is searching for Illinois security systems or Texas security systems, there is information available that can help in the purchase of systems. The site also provides valuable coupons and discount codes.