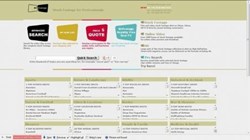 We are offering stock footage internet search engine for our clients' website without any upfront cost.
(PRWEB) August 26, 2013
MrFootage, one of the leading online stock footage stockists, is now offering Internet search engine on its customers' website to facilitate an easy video search. The facility will be provided without any upfront cost.
The company spokesperson in his statement said, "We are offering stock footage internet search engine for our clients' website without any upfront cost. This will facilitate easy video search for people who are looking forward to have some clips for self. We also provide royalty-free, paid and unpaid SD and HD videos. Our stock consists of video footage based on animals, landscapes, nature shots, family, corporate offices, individuals and a lot more. They are ideal to be used in documentaries and business videos."
MrFootage takes pride in housing over 100,000 video clips in its online library. The website has a humongous collection of stock footage for professional filmmakers as well as amateur directors. This is the reason they give regular visits to the website to lift stock videos for self.
"We have royalty-free footage of wildlife, sports, nature, landscapes, cultures, call centers, corporate offices, meetings, individuals, and adventure trips. The video quality of these clips is unparalleled and they can be used on any media platform apart from TV. Some of our videos are being offered without any charges, while others can be obtained after paying a nominal fee. All of our videos are shot by professional photographers, hence guaranteed for quality," added the spokesperson.
One can download HD footage from MrFootage and make them a part of their project without paying a hefty amount. The company distributes raw footage captured by professional cameramen, who put in hours to make impressive videos. The company also links the videos to aggregators to divert maximum possible traffic towards a targeted stock footage.
About MrFootage:
MrFootage is an online footage stockist and leading distributor of videos from various genres. It is known to provide royalty-free videos for use in various documentaries and projects. The company has now grown as one of the most popular platform for video buyers and sellers. The collection includes wildlife, family, individual, celebrities, marine and historical videos. To browse through the collection of sports footage, click here.
Contact Details:
MrFootage
Email: info(at)mrfootage(dot)com
Tel. +44 (0)20 8419 8222
Fax. +44 (0)20 7681 2286