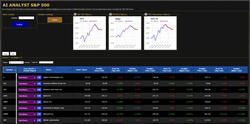 AI/Machine Learning is a powerful tool that will dramatically change financial markets and investment.
SALT LAKE CITY (PRWEB) August 17, 2021
The new release offers AI/Machine Learning for price prediction and alpha prediction on all stocks in the S&P 500 Index along with AI/Machine Learning for predicting what stocks will generate alpha of 3% or greater for 1w-3m forward and 10% or greater for 6m-12m forward.
Price and Alpha values are predicted by a Machine Learning model trained on +10 million historical data points and based on state-of-the-art algorithms (Extreme Gradient Boosted Algorithm). The model is retrained periodically to keep up with market changes and new trends and generate price and alpha predictions for 1W,1M, 3M, 6M, 9M, and 12m forward. Some of the inputs used are Factor Analysis, Regression Analysis, Ratios, Metrics, Fundamentals, Statistics, Technical, and more. The S&P 500 stocks will be the first set of stocks being used but the NYSE, Nasdaq, and others will quickly follow. The Extreme Gradient Boosted Algorithm being used has about 95-97% overall accuracy using our data.
The user can export any stocks in the AI/Analyst modules to the Stock Portfolio module and follow the AI portfolio created in real-time. Besides the predictions from the AI/ML model the user also can see hundreds of outputs on the stock and portfolio level, along with tear sheets and custom reports created in PDF, Word, or CSV.
Zoonova.com is the most advanced, comprehensive, and professional real-time financial market web application anywhere and is very affordable for most users. A full subscription is just $360 per year and there is a lot of information offered free. Level the playing field and try it out for 60 days free of charge.