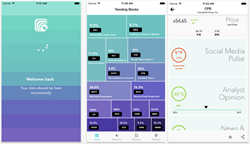 With Stockal you can discover stocks likely to move, track over 6000 stocks for social sentiments, analyst insights and revenue predictions, and you can also build investing playbooks to build strategies! You don't need any other stock app for research.
Manhattan, New York (PRWEB) March 15, 2016
While the financial services industry has seen massive changes in the last couple of years, one area that appears to be evolving slower than the others is the space of stock intelligence for active investors and traders. For instance, if you are investing to save taxes you can use the likes of Wealthfront and Betterment to manage your investments painlessly; or you can use any of the dozens of other robo-advisors. And if you are a hedge fund or an enterprise trader, you have all of the world's knowledge and resources at hand to determine that "alpha". But, if you are a small investor or trader then you have to still signup with half-a-dozen products and services for stock intelligence. You will, likely, get a newsletter subscription, a stock-tips service, an analyst report service, a breaking news subscription, a couple of social media accounts, a peer-to-peer messaging service and some other online subscriptions such as insider trade alerts. This mashup gives you a dashboard, of sorts! Oh, and then you will go back to your brokerage account to place trades.
Why can't investment management, for this space, be made seamless too?
Well, for years, creating stock intelligence has always taken significant manual effort. Technical Analysts, using multiple charting tools and techniques, have used historic price trends to predict future behaviors. Industry and sector observers have always used their experience and knowledge of their areas of expertise to give valuable insights on market trends. And, some large and successful investors have predicted market trends based on their having been through multiple market cycles.
Forever, these insights and information was available to only a select few investors who were, either experts themselves or paid for other people's expertise. But off late, with the advent of Big Data, such intelligence has potentially become available to the masses. So if there was a product that could aggregate and assimilate information from disparate sources then it would possibly be able to make such intelligence more accessible.
And Stockal seems to be doing just that. The app, which launched its public beta just a month ago is already receiving good reviews and positive validation. It's riding the wave of early adoption in the era of information overload. Investors are burdened with dozens to hundreds of information sources, "expert opinion", news feeds and social media. The iOS app that Stockal has launched assimilates, curates and analyses data from almost all the relevant angles an investor might need. Signals like Analyst Confidence, Sentiment Index, Revenue Prediction and Social Media Pulse when added to price data give you a well-rounded decision-support system. And at the foundation of these signals are curated reports, articles, conversations and hard data. The app also lets you build investment journals, "pin" articles and reports and make notes to create strategies.
In a recent interview, the Stockal founders - Sitashwa & Vinay - spoke about how they are creating an investing ecosystem which will provide curated, powerful intelligence to retail investors and then help them collaborate with other investors/traders, build strategies and execute trades - all from within Stockal.
Early signs suggest that, in Stockal, we have something that saves you the deluge of information that you overload yourself with by following every platform out there from Yahoo Finance to SeekingAlpha to MarketWatch and MorningStar etc. The iOS and Android versions of the app can be downloaded here and here.