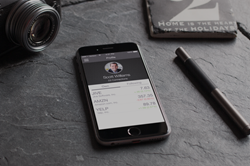 Stocket connects you with friends and the stock market, wrapped in a beautiful and intuitive interface.
Los Angeles, CA (PRWEB) April 29, 2015
Stocket just launched its social stock app, a simple way to connect with friends, share stock lists and more. Stocket is free to download on the Apple app store and features a variety of useful notifications, analytics and overall beautiful design.
"We are thrilled to offer a unique social stock app where many stock apps fall short or are just too complicated," said David Price, Stocket's founder. "The ability to connect with friends and view each other's stock lists allows users to build a stock network, providing an entirely new layer of insights." A cool feature Stocket offers is the ability to receive notifications if a connection buys or sells a stock.
The idea for Stocket came about when David would frequently talk about stocks with friends but had no way of staying on top of their interests. Gathering opinions from smart people he trusted was one of the best ways to discover new stock opportunities. As a result, Stocket was born with the goal to simplify and enhance the way we discover stocks.
For those wanting additional insights into stocks they own, users can purchase private analytics in the app for $.99. Analytics are visible only to the logged in user and display the most important information related to their portfolio such as today's overall change, total profit/loss, and individual stock performance metrics. Stocket strips out a lot of the complicated stuff that most passive investors don't look at, ultimately making the app a very clean and consumable experience.
Website: http://stocketapp.com
Press Kit: http://stocketapp.com/press-kit/