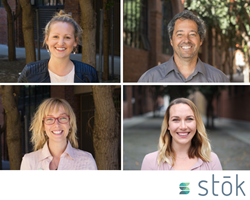 This new partner cohort has consistently demonstrated exemplary leadership in stok's rapid growth over the course of their 5+ year tenure, passionately embodying stok's bold vision for the future of real estate.
SAN FRANCISCO (PRWEB) July 31, 2018
In its tenth year of operations, stok, a high performance real estate services firm, is excited to announce the addition of four new visionary partners to the company's growing leadership team. They were vetted through stok's equitable pathway to ownership designed around continuous outstanding commitment and performance in alignment with the company's purpose: to boldly catalyze an environmentally restorative and socially equitable world. This new partner cohort has consistently demonstrated exemplary leadership in stok's rapid growth over the course of their 5+ year tenure, passionately embodying stok's bold vision for the future of real estate.
After knocking on stok's door over eight years ago, Michael Hummel has played an integral role in establishing stok as an industry leader in Net Zero Energy building design, playing a critical hand in landmark projects including the largest NZE retrofit in the U.S. at the time. His integrated and optimistic 'blue sky' approach allows him to continuously inject the stok team and clients with innovation, joy, and spirit.
"Michael is the type of guy who you task with the impossible – he'll study it from hundreds of angles, jot a few dissertations, and then present unique innovations that defy most comprehensions," says stok Founder Matt Macko, who has co-facilitated the growth of stok's Project Management arm with Michael.
In her six years at stok, Katie Bachman has been instrumental in scaling the company's real estate services across corporate portfolios for streamlined processes and global impact. An industry leader in sustainable and healthy materials procurement, she has led the development and implementation of some of the most cutting-edge custom design standards for corporate clients in Silicon Valley and across the country.
"Katie is not only one of the most humble, joyful, and warm individuals to be around but also one of the most inspiring. She is completely unwilling to allow for anything less than exceptional with all that she is a part of," says stok Partner Warren Neilson, who has spearheaded stok's strategic sustainability consulting projects with Katie.
Arriving to stok with over a decade of experience at renowned architecture firms across the U.S., Kristen Magnuson has used her design background to create uniquely innovative solutions for clients. Championing a warm and personal approach to comprehensive whole building systems, Kristen's demonstrated thought leadership and practical expertise in deep green and healthy buildings predominantly catalyzed stok's leadership in healthy, productive spaces.
"Kristen's design eye and unparalleled passion make everything she touches monumentally better," says stok Partner Jacob Arlein, who works closely with Kristen to deliver integrated sustainable design solutions to clients.
Jolene Goldsmith has radically improved stok's internal operations since joining the family five years ago. Injecting sustainability and equitability into every aspect of stok, she works in hyper-drive to ensure every team member is actively engaged and developing in their roles, leading the design and implementation of stok's autonomous organizational structure and peer-to-peer feedback model while building and maintaining stok's culture engine.
"Jolene is the glue that binds stok's business operations together – we couldn't achieve our vision without her; she's a true Human Capital Asset," says stok Partner Burke Pemberton, who has revolutionized stok's operations with Jolene.
ABOUT STOK:
Founded 10 years ago in San Francisco, stok provides innovative real estate services to developers, property owners, and tenants around the world. By integrating project management, sustainable design, and engineering and commissioning services, stok optimizes communication and cost savings to radically improve project delivery.
stok's growing team of 34 multidisciplinary professionals delivers high performance tenant improvement and ground up construction project management imbedded in comprehensive life cycle cost analysis, performance modeling, healthy materials consulting, biophilic design, customized sustainable design standards, and building certification services. With these methods stok has envisioned and delivered more than 107 million square feet of healthy, regenerative, and high performance commercial and residential real estate. For more information, please visit stok.com.