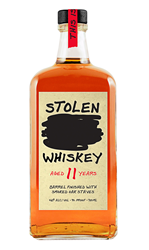 Chicago, IL (PRWEB) February 01, 2017
Stolen Spirits, the subversive creator of The World's First Smoked Rum, is breaking rules again with the release of a unique American Whiskey. Known for "stealing" one-of-a-kind, premium spirits and bringing them to life, STOLEN has procured some very special 11-year aged whiskey and then re-barreled it with double smoked barrel staves, resulting in a remarkably rich and distinct flavor.
Ever insatiable, STOLEN tapped into industry experts by adding a layer of artistry rooted in extracting staves from ex-whiskey barrels and toasting them in a 360-degree rotation over an oak wood fire. Turning the staves at key points during the toast allowed STOLEN to capture richly nuanced flavors across the entire wood gradient, resulting in a smoky consistency for every barrel stave.
To impart these fire roasted notes into the whiskey, STOLEN employs a secondary, barrel-finishing process where "the juice" is continually analyzed for taste and nosed for aroma until it peaks in boldness resulting in an additional layer of finished flavor complexity that differentiates STOLEN Whiskey from other traditional American whiskies and bourbons. On the nose is a roasted coffee bouquet that enhances dark fruits and lingers through an exceptionally long finish. On the palate, natural flavors of toasted caramel, dark molasses and smoky chocolate mingle. STOLEN American Whiskey's initial buttery mouthfeel ultimately balances out a bold and lasting finish.
"We're excited to introduce STOLEN American Whiskey for all those that enjoy premium spirits with a twist of irreverence," said Ryan Perry, Head of Product Innovation for Stolen Spirits. "The hard part was taking an already great whiskey with significant age and making it even better. The added barrel-finishing process resulted in a final product that was too good to keep to ourselves."
STOLEN American Whiskey will be available in March in liquor stores in select markets for the suggested price of $34.99 per 750mL bottle.
STOLEN spirits are best enjoyed bottle-to-lips, but also mix well with other fancy stuff. For cocktail suggestions, visit http://thisisSTOLEN.com and connect with Facebook , Instagram, and Twitter. For additional information, reach out to STOLEN's Director of PR & Social, joie(at)thisisstolen(dot)com.