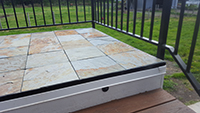 "Oly-Ola was very helpful with information. They sent a Stone-Edg sample, which I used as a test; it worked well.
Villa Park, IL (PRWEB) June 20, 2016
Oly-Ola Edgings Inc., a leading producer of commercial-grade 100% recycled polyvinyl chloride (PVC) paver restraints, roof garden edgings and polyethylene landscape edgings products, announces that Stone-Edg TM 1" high paver restraint was successfully installed on a residential project using 3/8" thick outdoor porcelain tile pavers.
As a general contractor specializing in residential installations, Martin Builders of Issaquah, WA recently completed a covered and uncovered expanded deck project that included an upper deck that measured 12' X 10', a 20' x 16' lower deck, plus a 6' x 8' landing.
Martin Builders installed 12" x 12" slate porcelain tile pavers with ¾" thickness. The pavers feature interlocking deck tile grids that snap together over any hard surface and create an elegant and low maintenance alternative to bulky concrete pavers. Martin secured the perimeter with Stone-EdgTM. The 1" high 'L'-shaped paver restraint is the ideal restraint for deck tiles. It is made of 100% recycled, high grade PVC without fillers or blown in materials, making it tough and flexible enough to hold straight and curved installations.
"I wanted a black edge so I went with Stone-Edg over an aluminum edging. Also the 1" height was critical and I needed to be able to bend the edging for the curved section of the deck. Since the project included a new deck with a workshop and a wine cellar below, it required a waterproof surface. I used a 90Lb thermoplastic polyolefin (TPO) single-ply roofing membrane with a sacrificial fabric made from a heavy duty landscape fabric and adhered the edging to the TPO with a TPO-rated adhesive," stated Craig Martin, Owner of Martin Builders.
"Oly-Ola was very helpful with information. They sent a Stone-Edg sample, which I used as a test; it worked well. It was flexible enough for curves and strong enough to create a consistent finished look, and I was also able to test compatibility with glues. Their customer service is great," continued Martin.
Founded in 1982, Martin Builders, located in Issaquah, WA, are general contractors specializing in new construction, additions and remodels.
For close to four decades, Oly-Ola, Edgings, Inc. has been producing the most complete line of vinyl paver restraints, polyethylene and vinyl landscape edgings in the landscape industry. Constructed of strong 100% recycled materials, Oly-Ola has 12 different restraint and edging styles available. Oly-Ola offers the industry's strongest and most comprehensive guarantee, hassle-free shipping, fast delivery and products that are sold exclusively through landscape distribution centers, landscape contractors, architects and independent nursery/garden centers. All edging products are made in the USA.
For more information, please call or write:
Oly-Ola Edgings, Inc. 124 E. St. Charles Road, Villa Park, IL 60181.
Phone: 800/334-4647. Fax: 630/833-0816.
E-mail: edgings(at)olyola(dot)com Website http://www.olyola.com