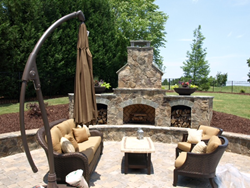 We carry a multitude of types stone pavers: size, texture, make-- you name it, we've got it
Charlotte, North Carolina (PRWEB) May 01, 2014
Masters Stone Group, the premier provider of stone masonry and design in Charlotte, NC, announced today that a new survey outlining the increased popularity in outdoor patios confirms a jump in sales for stone pavers. The survey by the American Society of Landscape Architects (ASLA) shows a 97.7% popularity rating for patios in the "Outdoor Structures" Category. Overall, experts say consumers are leaning towards
The ASLA survey comes amidst other reports indicating a high demand for outdoor living spaces in residential properties. MSN Real Estate reports 48% of 600 residential architecture firms noted an increase in popularity of outdoor living spaces, including large patio areas. In addition, stone kitchens, fire pits, outdoor living rooms, and fireplaces are also hot items, the report finds.
"The possibilities are endless," says Mark Correll, President of Masters Stone Group. "We've built some truly unique outdoor living areas where stone pavers were a great foundation. The availability and variety lend itself well to exterior flooring," says Correll. "We carry a multitude of types stone pavers: size, texture, make-- you name it, we've got it."
With summer just around the corner, choosing stone pavers to upgrade your outdoor living areas will continue to be a hot item for 2014. Creating a beautiful retreat in your backyard instead of a trip to Bali is a worth-while investment that you can enjoy for years to come.
About Masters Stone Group
With over 20 years' experience in the custom home building and stone masonry field, Masters Stone Group specializes in the art of selecting, designing and installing natural and manufactured stone in Charlotte, NC, and surrounding areas. Masters Stone Group is fully licensed, bonded and insured for all work completed. For more information about all types of stone masonry and the leading stonemasons in Charlotte, please call 704-968-7177. Visit the website at http://www.mastersstonegroup.com.