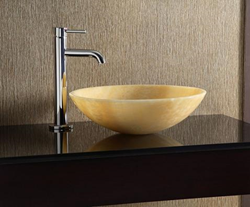 Each and every piece of stone is different, and while the type of stone will be the same as the one pictured, the final product will be absolutely one of a kind, with a different mineral pattern and totally unique detailing.
(PRWEB) August 21, 2013
HomeThangs.com – the Online Home Improvement Store has made their goal to deliver the right product to the consumer. With that in mind, shopping and home design tips, as well as special product selections are being introduced.
In recent years, homeowners have gone gaga for natural stone. It's far and away the most popular material for counter tops in both the kitchen and the bathroom. For every person that says granite is on its way out, there seem to be a dozen homeowners, designers, and contractors that beg to differ. Recently, stone has been making an especially good showing in luxury bathrooms, and has become a hugely popular material for floors, walls, and even more unexpected fixtures like the bathroom sink. HomeThangs.com has introduced a guide to stone vessel sinks, which offer a great way to get the luxury look and feel of stone even on a limited budget.
Stone vessel sinks are typically made out of a single piece of stone that's carved and polished to the desired shape. What this means practically is a gorgeous above-the-counter sink that shows off the natural patterning of the stone inside and out. A stone with pronounced veining or speckling will show detail to the fullest, creating a beautiful contrast between the primary color and the natural variations in the stone.
Different types of stone will have different patterns and colors – from the fairly regular flecks found in granite to subtle or pronounced veining of marble, or even simple, elegant striations of color in various other types of stone. Stone vessel sinks that have an obvious natural pattern are often cut so the shape of the sink itself fully accentuates the color variations in the stone.
Of course, each and every piece of stone is different, and while the type of stone will be the same as the one pictured by the individual manufacturer, the final product will be absolutely one of a kind. For the same reason that granite vanity tops cut from different parts of the same slab can have a completely different appearance, each and every stone vessel sink will be a little bit different, showcasing a different mineral pattern and totally unique detailing while matching the advertised color.
Not all stone vessel sinks are smooth on the outside. While many are honed and polished on all surfaces, plenty more are left unfinished – particularly sinks made of granite, though it can be done with marble as well. These sinks combine a rough, geode-like exterior with a smooth, polished inside, creating a brilliant, almost museum-like elegance. This stands in sharp contrast to the standard use of finished stone, offering a unique texture not likely found anywhere else in the home. Even "unfinished" stone tile is often honed to a relatively smooth surface, while these sinks are left au-naturale.
It's maybe worth noting that stone vessel sinks with a rough, unfinished exterior tend to be a little thicker than their fully-carved brethren. Largely, this is because the exterior surface is unfinished and uneven, so the inside walls have to be a bit thicker to ensure they aren't accidentally hollowed out all the way through. The result, though, is a heftier, more masculine looking vessel sink with a very different appearance than more delicate stone sinks. With a dark color like black granite, the contrast between the highly polished interior and the rough exterior also creates quite a striking appearance.
As with smooth finished stone vessel sinks, there is a great deal of natural variety between rough finished stone sinks. While a solid black granite may have a more consistent appearance on the inside of the sink, the exterior of each one will be different. In many cases even the shape of the sink can vary much more than one that's been cut and shaped on all sides, and can even be quite irregularly shaped, enhancing the unique, one-of-a-kind look and feel of a natural stone sink.
To see more of these gorgeous sinks, read the full article here or check out the stone vessel collection from Xylem.
HomeThangs.com is not only a home improvement superstore, it also provides expert design tips and a comprehensive shopping guide, taking the ideas from professional interior designers, and offering tips to the consumers on how to pick the products to best suit their needs.