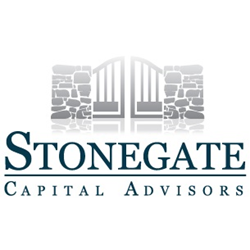 Scottsdale, Arizona (PRWEB) May 13, 2015
It is important that individuals stay informed about economic trends and financial happenings shares Stonegate Capital Advisors. This financial expert believes that this is the case because having knowledge about these factors allows individuals to make the best decisions about how they are going to spend their money, where to make investments, and why or when they should save for expenses that they may not have thought of. Here, Stonegate Capital Advisors reveals that there have been several factors that have come into play the last few months that have been resulting in individuals having extra money.
First, Stonegate Capital Advisors shares that many industries have added a significant number of jobs over the past few months. December saw 252,000 new jobs, making 2014 the best year for employment since the turn of the millennium. In January there were 257,000 new hires and in February, 295,000 new non-farm jobs were filled according to the Labor Department. Construction sectors especially have seen an increase in employment. The under and unemployment numbers have been showing positive trends and also indicate that there are many new individuals participating in job searches. Finally, personal wages are also increasing for many individuals, and saw an overall increase of 0.3% just before the New Year. These new opportunities have resulted in many families seeing an increase in income.
Another positive factor for many families over the past few months has been the drop in energy prices. The lower oil prices have resulted in a fall in costs for car fuel and home energy. Due to this, consumer prices as a whole were lower and there was less consumer spending during the period as well. The lower energy costs over the last few months have resulted in a break for many individuals and families who were able to put the money normally spent on gas and energy bills towards other costs.
Families who are benefitting from these many factors may be seeing an increase in income or at least some extra cash due to the savings from the falling oil prices. Stonegate Capital Advisors says that since many families have been thinking about putting extra efforts into savings in accordance with an increase in income, it is important that they access reliable resources. If these families want help with financial planning to ensure that they are making the best efforts to save or reinvest their extra money, they can always depend on the assistance of Stonegate Capital Advisors.
Stonegate Capital Advisors is a wealth management firm that is also one of the leading financial and tax experts in the field, helping individuals and businesses with their financial management needs. Stonegate Capital Advisors provides expert knowledge and assistance through a variety of financial services and consulting practices. These services include business planning, office services for families, tax planning services, portfolio management strategies, and risk reduction services. These many services can help anyone lead a more financial sound life and a secure their financial future. To learn more please visit http://stonegateprivateclient.com/
###
Press release distributed by JW Maxx Solutions, a leader in content management solutions.