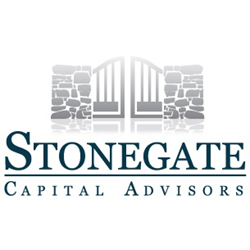 Scottsdale, Arizona (PRWEB) August 12, 2015
World travel. Picking up a new hobby. Completing long-delayed home improvement projects. Retirement can be an exciting time in one's life, so much so that one may decide to take the leap as soon as possible. Many pre-retirees may be even more tempted to leave work after having seen their savings fully recover due to Wall Street's long bull run.
However, Scottsdale financial services expert Jameson Van Houten of Stonegate Capital Advisors says there are plenty of reasons to wait.
Outliving retirement savings. With advances in medicine and healthier living habits, people are experiencing longer lifespans. In fact, on average people live eight years longer today than they did in 1970. Now add in bear markets, sudden medical expenses, savings shortfalls, and immoderate withdrawals from retirement accounts and a person can spend their retirement funds more quickly than they realize. Jameson Van Houten says retiring at 55 or 60 may sound great, but that leaves a person many more years of retirement to fund.
Greater Social Security income. Full retirement benefits can be claimed at 66. Waiting even a few years longer to retire means fewer years spent depending on your assets and instead receiving greater monthly Social Security income, says Jameson Van Houten. In fact, a retiree who claims Social Security benefits at age 70 is set to receive monthly payments 76% greater than a retiree who claims them at age 62.
Insurance payments. According to Jameson Van Houten, this is a matter of paying for private insurance for more years versus getting one's medical insurance through her or his company. Medicare will not cover people – retired or not – until they turn 65. And those people with pre-existing conditions may find it hard to get private insurance. So what will they do in the event of an illness? Will their finances hold up?
Mental health. The intellectual demands of the workplace, as well as socialization with friends and co-workers, can help a person keep mentally focused and happy. It may be difficult to find an equivalent once a person ends his or her career. A study by INSERM, France's national health agency, found that people who left the workforce at 60 were at 15 percent greater risk of developing dementia than those who stopped working at 65. That's just five years difference.
Jameson Van Houten recommends that at whatever age a person decides to retire, they do so with adequate savings and a plan to stay physically and mentally active and socially engaged. That may mean waiting a bit longer to clock out for good. To learn more about Stonegate Capital Advisors, visit them online at http://stonegateprivateclient.com.
###
(602)953-8450
info(at)stonegatefg(dot)com
Press release distributed by JW Maxx Solutions, a leader in content management solutions and part of a family of companies that includes Enterate Ahora.