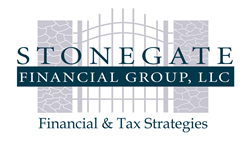 Scottsdale, Arizona (PRWEB) August 06, 2014
Stonegate Financial Group states that people in their early 20s are usually worried about how much money they will have to go out, go shopping, and pay their rent and utilities. However, it is also important for this age group to start focusing on what they will be doing for retirement. Many young adults may scoff at this idea because the furthest thing from their mind is what they will be doing forty years from now. Although recent college graduates have just started their careers in the workforce, they also need to start saving for when they leave it. In order to effectively save for retirement, young adults in their early 20s can follow these helpful tips.
1. Pay oneself first: Many people do not like taking money out of their account once they have seen the amount of their paycheck. It can be painful to take away hard earned money and put it into a savings account or retirement fund. The best way to do this is to set up a 401k option with an employer. By doing this, employees can set aside a certain amount or percentage of their paycheck and put it into the 401k. This allows them to put money aside without having to see it first.
2. Control your spending: The best rule to follow about how much to spend is to spend less than the amount of one's paycheck. Although this seems like common sense, the use of credit cards has enabled people to spend more money than they are bringing in. Stonegate Financial Group shares that people do not have to live too frugal, but just make sure to watch how much is being spent each month.
3. Stay educated: It is important always to stay educated and informed when it comes to saving money. This can include the various savings and retirement options and personal investment portfolios.
Stonegate Financial Group shares that for those financially savvy young adults who choose to start implementing these tips in their life, they will be much more prepared for a comfortable retirement. For more information on Stonegate Financial Group and the services that it provides, please visit http://stonegatefg.com/ or call (602) 953-8450.