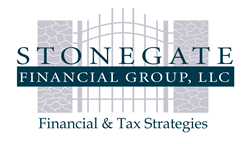 Scottsdale, Arizona (PRWEB) September 08, 2014
Stonegate Financial Group has always ascertained that it is better to start saving for retirement sooner rather than later. This is why this top private investment firm is pleased to share that as of December 30, 2013, over $20 trillion was placed into retirement accounts, according to the Investment Company Institute.
The only downside to this is that many IRA owners and their financial advisors are unaware of the complicated tax laws in regards to distributions of these retirement accounts. There are many different strategies that can be implemented in order to save investors and their heirs' money today and in the future. Stonegate Financial Group is sharing this information with investors.
1. Naming is important.
When it comes to retirement accounts, Stonegate Financial Group recommends that these accounts be separated from any other part of the investor's estate. This is because retirement accounts are required to be in the name of the beneficiary themselves, which overrides any and all other estate planning documents including, but not limited to, a person's will, trust and more.
2. Know what an IRA is and is not.
There are many different aspects of IRAs that can be confusing. When it comes to the distribution of these assets, it is important to remember that an IRA does not pass through an individual's will, unless it has been made payable to the estate. Additionally, IRAs do not receive any capital gains treatment and in most cases cannot be gifted or transferred to a trust.
3. IRAs require a minimum distribution.
Unlike almost any other asset in a person's estate, IRAs require a minimum distribution to be taken out, once the investor reaches a certain age. It is important to keep in mind, however, that placing the title of an IRA into a trust may cause an investor to incur immediate taxation, shares Stonegate Financial Group.
While IRA accounts can be confusing, with the help of a financial planning expert, like those at Stonegate Financial Group, it is possible to navigate the complicated world of investing for retirement. For more information about IRA accounts or any of the other financial services this firm provides, visit http://stonegatefg.com.