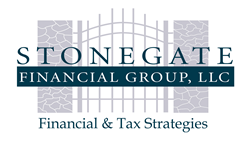 Scottsdale, Arizona (PRWEB) September 23, 2014
Stonegate Financial Group shares that many people habitually struggle with creating and sticking to a budget each year. This is especially true in the fall months as many people start to buy gifts for the upcoming holidays. In order to help people to save now for the end of the year, the financial advisors at Stonegate Financial Group are sharing these tips for budgeters to consider.
1. Always take a list to the store.
When going to the grocery store, clothes shopping or when purchasing any other type of item, it can be easy to spend more than what the shopper planned on spending. Walking through the store, it is likely that the individual will come across different deals and sales that might be tempting to take advantage of. Stonegate Financial Group always encourages shoppers to bring along a list of exactly what they need in order to avoid any unnecessary spending on items or services that a person may not need or cannot afford. Before heading to the checkout line, make sure that every item in one's basket is one that is needed. If an item is not a necessity, it is better to save the money for a future trip.
2. Be flexible every once in a while.
Oftentimes, things come up financially that are unforeseen circumstances: the vacuum breaks, the car needs a repair, the television stops working and a whole host of other events that can sometimes throw a budget slightly off course. It is important to remember that life happens and that paying for these items and events are not the end of the world.
3. Keep track of how much is spent and keep receipts.
When planning and sticking to a strict budget, it is important to keep track of every cent that is spent. By writing these totals down and looking at monthly statements/receipts, it is possible to analyze where more money is being spent and where the budget may need to be adjusted shares Stonegate Financial Group.
For more information on how to plan, stick to and have a successful budget, contact the Scottsdale financial certified planners at Stonegate Financial Group by visiting http://stonegatefg.com.