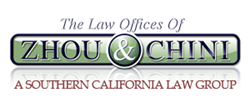 Stop foreclosure in Riverside by using a bankruptcy, call today for a free consultation.
Riverside, California (PRWEB) July 21, 2013
A newly launched marketing drive by the Law Offices of Zhou & Chini targets residents of Riverside, California, educating them on different bankruptcy options.. The successful firm utilizes some of the top bankruptcy attorneys in Riverside California to stop foreclosure proceedings, allowing area residents to keep their properties. All residents can make an appointment for a no cost 30 minute consultation with a professional bankruptcy lawyer to review their situation and receive advice on which bankruptcy option will serve them best. The lawyers will carefully discuss California bankruptcy laws and how they work. To speak to an attorney about a foreclosure proceeding or to find out more about the firm visit, http://www.bankruptcyattorneyinriverside.com.
Losing homes or businesses through foreclosure is a traumatic experience for the owners and families that are forced to go through them. The stress of the foreclosure experience is compounded by the financial difficulties that led to the situation in the first place. However, bankruptcy offers homeowners a way to stop foreclosure proceedings and keep their homes. Led by the top professional Riverside attorneys, residents can select the best bankruptcy options according to their individual situations, providing them with a way to get out from under the heavy burdens of debt. If a homeowner has tried to refinance by using a home loan expert and are unable to because of credit or equity, they may try consulting with an attorney to go over other options.
Zhou & Chini are some of the best bankruptcy lawyers in Southern California with years of experience and deep connections in the legal arena. Through a free consultation, an assigned bankruptcy attorney will evaluate the client's financial situation and provide advice on which bankruptcy options are the best for their situation. During the free 30 minute consultation, the client's attorney will explain the three types of bankruptcy which can be filed and provide counsel on which to chose. Bankruptcy under Chapter 7 will eliminate any unsecured debt which the client has, providing more financial freedom to make payments on their property. Bankruptcy under Chapter 11 is designed to assist businesses, with this option, it allows business owners time to organize and structure their operations a new so that expenses can be eliminated, and money can be freed up to run the business.
Bankruptcy under Chapter 13 in Riverside can be used by either business owners or homeowners. This option also allows time for restructuring through a court created payment plan. However, it also offers another benefit to those who are 'underwater', meaning that their properties are worth less than the amount owed on them. In this situation, bankruptcy lawyers in Riverside can file what is known as a 'lien strip motion' on behalf of home and business owners. This motion instantly stops any foreclosure proceedings and can even eliminate second or third mortgages altogether. Not only can Riverside residents stop foreclosure through filing one of the above bankruptcies, but their expert bankruptcy attorneys working with Zhou & Chini can help with additional finances that can relieve pressure, and be used on returning their lives to a form of normalcy. To discover more about California bankruptcy information or to find out how to stop foreclosure proceedings contact the law firm directly.
The firm is committed to its clients, uses the best attorneys, and never hands off cases to less experienced paralegals. The bankruptcy law firm has been using professional SEO services to promote the bankruptcy attorneys for internet marketing to help promote the message about the importance of speaking with an experienced bankruptcy attorney in Murrieta CA, when an individual is considering filing for bankruptcy. The bankruptcy firm continues its online presence by offering no cost bankruptcy information on the firm's blog and social media bankruptcy pages. By using the top SEO company for online marketing, along with zero cost consultations, the Riverside bankruptcy attorneys hope to help more homeowners learn about bankruptcy and what options they may have. To read more on the bankruptcy attorney Riverside Facebook page.
About the Firm: The Law Office of Zhou & Chini servicing the cities and counties of California. He is a graduate of UCLA and has been practicing law since 1999. Mr. Zhou has a wealth of experience in bankruptcy, civil litigation, family law, criminal law and unlawful detainers. Zhou and Chini Law Offices provide bankruptcy assistance to Riverside, Los Angeles, Riverside and San Diego residents. For more information about the Riverside lawyers please call the toll free, 888-901-3440
Contact:
Ron Chini
Phone: 888-901-3440
Email: info(at)bankruptcyattorneyorangecounty.org