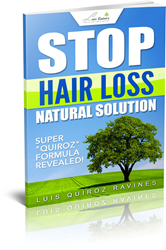 This new treatment could be useful for thousands of people around the world who face problems of hair loss.
TRUJILLO, PERU (PRWEB) October 11, 2017
PC. Luis Quiroz Ravines is the author of "Stop Hair Loss Natural Solution" a book that reveals a treatment that doesn't require expensive supplements, painful surgery or risky medication…but is proven to work. He has created a natural remedy for stopping hair loss using herbs and plants found in his native country of Peru.
4 Years ago, he was fed up with feeling his life was being ruined by hair loss. Thankfully, his experience as a TV journalist came into play. From his career he's learned only too well the importance of deep, thorough research.
So he embarked on a quest to find out what was causing his hair loss and how he could prevent it.
He started to research all the natural remedies and traditional medicines that have been used in Peru for generations for hair loss, this includes an ingredient his mother used to keep her hair long and shiny.
On his quest, he discovered an herb that can stimulate blood flow on the scalp to help stop the conversion of testosterone into DHT. Additionally, he discovered a potent fungicide, a bactericide and a natural antibiotic that combats itchiness, dandruff, seborrhea and dermatitis.
He assembled all of these ingredients in his home based lab. Well, all the sleepless nights of trials, testing and frustration eventually paid off. Because one day he achieved the Eureka moment.
What he discovered was a combination of ingredients that not only stopped his hair from falling out, but have made it stronger, shiner and healthier than two decades ago.
Luis Quiroz has written the book "Stop Hair Loss Natural Solution" based on his own experience. He details the components of the recipe, where to find these ingredients and, above all, describes step by step, how to prepare the lotion and how to use it.
The author says that the book is written in simple language and describes the scientific foundations of each element of its formula that justify its effectiveness in preventing and stopping hair loss.
Additional information at http://stophairlossnaturalsolution.com/