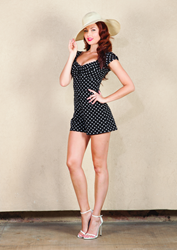 The brand promises to once again offer fresh new looks that are unique, fashion forward, and unavailable just anywhere.
Los Angeles, California (PRWEB) August 15, 2015
Stop Staring! is pleased to announce their return to the prestigious Magic fashion trade show.
The show, scheduled for August 17-19, 2015, is slated to be held at the Las Vegas convention center, located at 3150 Paradise Road. The event features more than 60,000 people in attendance and thousands of leading vendors in the fashion industry.
A successful staple of Stop Staring!'s annual marketing efforts, Stop Staring! will again be hosting a booth at this year's show. The Stop Staring! Booth will be #74318, located in the Contemporary section of WWD Magic.
While everyone is invited and encouraged to visit the Stop Staring! Booth, Stop Staring! Is targeting new clients at this year's showing. Specifically inviting boutique owners, managers, and buyers to visit the Stop Staring! booth, the brand promises to once again offer fresh new looks that are unique, fashion forward, and unavailable just anywhere.
As an added incentive to new customers, Stop Staring! plans to offer a unique promotion during the show. New buyers/boutique owners placing their first order in excess of $500 will receive a complementary dress in their choice of style and size. First time clients placing an initial order of $2,000 or more will be given two free dresses in their choice of size and style. This promotion applies only to orders placed by September 30, 2015.
About Stop Staring!
Since 1997, Stop Staring! has offered fitted, flattering dresses and separates in various styles, from retro chic to rockabilly, to help women look and feel their most confident; the company's distinctive styles have been sold around the world, featured in leading magazines, and worn by various A-list celebrities. All Stop Staring! clothing is made domestically with imported or locally produced fabrics, and the company's dresses and separates are always offered at affordable prices. To learn more about Stop Staring! and its products, please visit http://www.stopstaringclothing.com.
About Magic
Magic is a bi-annual fashion trade show held in Las Vegas, Nevada, that celebrates fashion by attracting 60,000+ industry insiders. With more than 85 years' experience, and participation from more than 120 countries annually, the Magic Fashion tradeshow is considered a staple event for many in the fashion industry. Learn more about the Magic tradeshow at http://10times.com/wwd-magic.