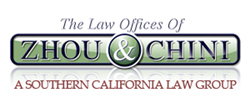 Stop wage garnishments in Temecula, talk to an attorney today, 888-901-3440
Temecula, CA (PRWEB) August 20, 2013
The Law Offices of Zhou & Chini wish to inform Temecula residents of their expert bankruptcy services with a new marking drive. The local attorneys are committed to doing all they can to help alleviate such difficult situations. Professional lawyers can do wonders for those who are drowning in debt and facing the wrath of lenders and bill collectors. Through various forms of bankruptcy, massive amounts of both unsecured and secured debt can be completely wiped out, so that those affected can restart their lives from scratch. Wage garnishments can also be stopped by expert attorneys through legal measures. To find out more about California bankruptcy laws, or to speak with an experienced attorney visit the local website here, http://www.bankruptcyattorneytemecula.com/
It can be quite easy to fall into the deep uncontrollable debt. This is especially true when economic times are tough. The slightest unexpected life situation such as a lost job, divorce, illness, or other tragedy can quickly send hard working people spiraling into debt difficulties. Before long, lenders and bill collectors are pouncing on the situation and using any means possible to retrieve payments, even the garnishing of wages. Having partial income amounts deducted from paychecks can add even more stress, and pressure to already distressing circumstances. However, through their new marketing campaign, the Law Offices of Zhou & Chini are making their professional services known to the people of Temecula who are experiencing similar financial difficulties. Various bankruptcy options are available which are designed specifically to help such individuals, families and businesses out of financial troubles. The expert bankruptcy attorneys can lead the way through the process, and help Temecula residents stop wage garnishments by aggressive bill collectors and lending agencies.
The entire legal team of Zhou & Chini has a well known reputation for doing all they can to help alleviate burdensome debts off the backs of their clients. The firm has successfully been operating in the Southern California area for many years and their professional bankruptcy attorneys are seeking to do more for local residents in order to free them from debt so they can continue building their lives.
Those seeking debt assistance simply need to contact the local office for Zhou & Chini, schedule an appointment, and come in for their 30 minute consultation with a professional bankruptcy attorney which is absolutely free. During the consultation, attorneys review cases and provide expert advice on the best methods for eliminating stressful situations. They may suggest such avenues as Chapter 7, 11, or 13 bankruptcies, each one designed to assist in specific areas such as homeowners or businesses facing foreclosure. Certain debts can be completely wiped out, wage garnishments stopped, and finances freed up. Those that own homes should consult with a home mortgage expert to discuss any refinance options, prior to filing for bankruptcy.
The Law Offices of Zhou & Chini have been serving the residents of Southern California, and educating them on California bankruptcy exemptions. The attorneys associated with the firm take great pride in providing personalized as well as professional service which is why most clients return to them for future assistance with financial difficulties. The best professional search engine optimization consultants assist in law office in promoting the message about the importance of speaking with a local bankruptcy lawyer, if someone is considering filing. The firm continues its online presence by offering zero cost bankruptcy information on bankruptcy firm's blog and social media pages. The firm also works with the top local SEO company to promote online the firm's no cost no obligation consultations. To learn more information view the bankruptcy attorney Temecula Facebook page, http://www.facebook.com/BankruptcyAttorneyTemecula
About the Firm: The Law Office of Zhou & Chini servicing the cities and counties of California. He is a graduate of UCLA and has been practicing law since 1999. Mr. Zhou has a wealth of experience in bankruptcy, civil litigation, family law, criminal law and unlawful detainer. Zhou and Chini Law Offices provide bankruptcy assistance to Orange County, Los Angeles, and San Diego residents. For more information about using a criminal defense attorney in Orange County call the main office number.
Contact: Ron Chini
Website: info(at)bankruptcyattorneyorangecounty(dot)org
Phone: 888-901-3440