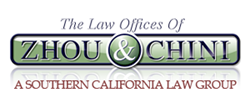 Stop wage garnishments in Corona by using the top attorneys in city, 888-901-3440
Corona, CA (PRWEB) August 11, 2013
Financial troubles are multiplying across the nation as the economy continues to sputter along at best. Corona is one such city that sees that some its residents struggling with severe economic difficulties, and some are sinking ever lower in the abyss of uncontrollable debt. For this reason, the Law Offices of Zhou & Chini have launched a new campaign that introduces their services. Through the firm's expert bankruptcy lawyers, Corona residents can have wage garnishments stopped as well as file an emergency bankruptcy which will immediately cease all actions by aggressive lenders and bill collectors. Clients are assigned an expert Corona attorney that will stay with them throughout the entire process, providing counsel and representation. To learn about California bankruptcy laws and what they how they can be best utilized contact the local office here, http://www.bankruptcyattorneycorona.com/
Serious financial situations can easily spiral out of control, consuming any available funds from individuals, businesses and families. As bills pile up that cannot be paid, aggressive actions by lenders and bill collectors whittle away at any remaining funds. Repossessions are made, foreclosures are launched and wages are garnished in attempts to collect payments. Such actions leave Corona residents even worse off, leaving them with few choices.
The Law Offices of Zhou & Chini want to make those under such financial duress aware there are ways out from under such incredible financial burdens. The professional lawyers working with the firm can help Corona residents file emergency bankruptcy and even stop wage garnishments placed on clients. Not only do these actions relieve financial pressure, but they also release valuable funds back into home and business budgets so people can get back on their feet. The law firm contains highly skilled and knowledgeable attorneys of bankruptcy law who have been helping free Southern California residents from the spiraling decline of massive debt since their beginning in 1999. Zhou & Chini take pride in providing very personalized counsel and representation and they never turn clients over to paralegal underlings. From the free 30 minute consultation all the way through to the settling of bankruptcy cases, professional and skilled lawyers stay with clients offering advice and providing guidance through the bankruptcy processes. Those that are homeowners in Corona should consult with a home loan mortgage expert to determine if any programs are available to refinance the property.
In a short period of time Corona residents can be free of mountainous debt, wage garnishments, and fear of foreclosure or repossession as well as have much needed finances released and flowing into their homes once again. Chapter 7, 11, or 13 bankruptcies can remove unsecured debts and stop the actions of aggressive bill collectors. Emergency bankruptcy can accelerate that process to provide almost instant relief to those involved in dire financial situations. The expert bankruptcy attorneys of Zhou & Chini will also remove and wage garnishments against their clients so income is again available to help clients overcome their situations.
The lawyers have been operating in Southern California since their opening in 1999. Their highly skilled bankruptcy lawyers take pride in providing personalized assistance in helping clients obtain financial freedom through the removal of debts, ceasing of wage garnishments, time provided for restructuring, etc. Their professional legal team provides dedicated attention to client needs and expert attorneys take and follow cases from start to finish without them ever being handed over to underling paralegals. The attorneys work with the top SEO professional in the US to assist in promoting the law firm's message about the importance of speaking with a bankruptcy lawyer in Corona if someone is facing foreclosure. The firm continues its online presence by offering zero cost bankruptcy information on bankruptcy firm's blog and social media pages. By providing this information through the best search engine optimization experts to promote free consultations, the firm hopes to attract more Corona residents looking for financial relief. To read more on the firm's bankruptcy attorney Corona Facebook page visit, http://www.facebook.com/BankruptcyAttorneyCorona
About the Firm: The Law Office of Zhou & Chini servicing the cities and counties of California. Mr. Zhou is a graduate of UCLA and has been practicing law since 1999. Mr. Zhou has a wealth of experience in bankruptcy, civil litigation, family law, criminal law and unlawful detainer. Zhou and Chini Law Offices provide bankruptcy assistance to Orange County, Los Angeles, and San Diego residents. Contact the office below for more information regarding retaining a bankruptcy lawyer in Riverside California
Contact: Ron Chini
Website: info(at)bankruptcyattorneyorangecounty(dot)org
Phone: 888-901-3440