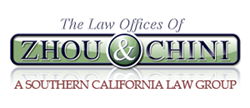 Stop wage garnishments in Los Angeles by using the top bankruptcy attorneys, call 888-901-3440
Los Angeles, California (PRWEB) August 07, 2013
These are difficult financial times brought on by a struggling economic and slow housing recovery. Many Los Angeles families and businesses have fallen into the downward spiraling pit of unpaid debt. As debts accumulate, it can be even harder to make payments. Then, when lenders and bill collectors garnish wages, situations become even bleaker for Los Angeles residents. The Law Offices of Zhou & Chini have released a new marketing campaign with these people in mind to let them know that filing emergency bankruptcy can stop foreclosures and other aggressive actions by lenders. Also, their expert attorneys in Los Angeles can help clients to stop wage garnishments so that much needed income can once again flow into homes and businesses. To learn more about California bankruptcy laws or to have an attorney look at a particular situation visit, http://www.californiabankruptcyinformation.com/wiki/los-angeles/
The Los Angeles bankruptcy attorneys working with the Law Offices of Zhou & Chini are committed to providing personal attention to their clients as well as helping them by all means possible to alleviate harsh financial situations through bankruptcy, and other legal tools. This commitment to servitude is what has led by the law firm to launch a new campaign to make Los Angeles residents know that they can get immediate financial relief by filing for emergency bankruptcy, or use the expert lawyers to stop wage garnishments. It can be difficult enough trying to make ends meet in a sputtering economy, but it can be unbearable to have lenders and bill collectors constantly hounding you for payments or, worse, garnishing your income to meet debts. Hard economic times have led many Los Angeles families and businesses to the brink of financial disaster with foreclosures and repossessions. However, the Law Offices of Zhou & Chini can be the answer to such dire circumstances. Homeowners should seek the help from a home loan expert to discover if any of the government programs can assist them in saving their home. If all avenues have been exhausted, bankruptcy may be the best option.
Zhou & Chini attorneys are some of the best bankruptcy lawyers in Southern California and have been providing financial relief to Los Angeles residents since 1999. Due to their legal experience, the bankruptcy lawyers know how to best assist their clients and help them both eliminate debt and free up the flow of finances into their lives. Every potential client can schedule a free 30 minute consultation with a professional bankruptcy attorney by calling the Law Offices of Zhou & Chini at 888-901-3440. During the no cost consultation, the client's situation will be analyzed to identify the best options and then counsel will be given to the client as to the best way to proceed and what is involved. Once cases are turned over to expert lawyers they will go to work immediately helping clients by stopping any wage garnishments or filing emergency bankruptcies on their behalf which will stop any foreclosures, repossession, and other harsh actions by bill collectors. To find out the different California bankruptcy exemptions and what they mean for those filing, call and speak to an attorney directly.
Since 1999, the Law Offices of Zhou & Chini have been successfully assisting Southern California families and businesses out of financial troubles through bankruptcy and other legal options. The bankruptcy lawyer uses the best search engine optimization company to assist in marketing and to promote the message about the importance of speaking with a bankruptcy lawyer in Los Angeles CA, if someone is considering filing. The firm continues its online presence by offering zero cost bankruptcy information on bankruptcy firm's blog and social media pages. This information along with free consultations the firm hopes to attract more local residents looking for financial relief.
About the Firm: The Law Office of Zhou & Chini servicing the cities and counties of California. He is a graduate of UCLA and has been practicing law since 1999. Mr. Zhou has a wealth of experience in bankruptcy, civil litigation, family law, criminal law and unlawful detainer. Zhou and Chini Law Offices provide bankruptcy assistance to Orange County, Los Angeles, Orange County and San Diego residents. To speak to a Orange County lawyer to discuss bankruptcy contact the lawyers directly.
Contact: Ron Chini
Website: info@bankruptcyattorneyorangecounty.org
Phone: 888-901-3440