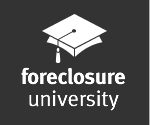 This is by far one of the best solutions for homeowners who are struggling to make payments and are upside down on their mortgage(s)
Salt Lake City, UT (PRWEB) July 08, 2013
The ability to stop foreclosure for many homeowners can be extremely challenging. So challenging in fact, that many are simply forced to give up and let their home go. One of the biggest causes for giving up and letting the home go to foreclosure is not knowing all the options and thinking homeowners can do it on their own.
According to Jarad Severe, owner of Foreclosure University, "Very few homeowners who are in default ever stop foreclosure from happening because they think they can solve their own problem. They are too embarrassed to reach out to anyone for help until it's too late. They also don't know all the options that exist so they give up and walk away."
There are several options available to help homeowners stop foreclosure as long as they meet certain requirements. The biggest challenge for homeowners right now are home values. Back when the economy was flourishing and home prices were skyrocketing, homeowners took advantage of any extra equity that was in their homes.
According to Jarad, Taking out large 2nd mortgages, also known as a home equity line of credit (HELOC), were extremely popular. These HELOC's were used to buy vacations, boats, toys and great lifestyles. When the market went bad and home values went down, homeowners were stuck with homes that were upside down and payments they couldn't afford anymore.
In a case where a home is "upside down", there are very few options to stop foreclosure. One of those options being a short sale. A short sale is when the lender takes less then what is owed on the property in order to sell the property quickly. Essentially they discount the loan low enough for the property to sell. This requires the homeowner to move out and start over.
However, there is a new solution that is able to keep homeowners in their homes, lower their monthly payments and eliminate that 2nd mortgage while saving their credit. It's called a note settlement. "This is by far one of the best solutions for homeowners who are struggling to make payments and are upside down on their mortgage(s)." says Jarad. "Unfortunately no one knows it even exists!"
Unlike a short sale, homeowners who are unable to sell their homes because of negative equity, can wipe out their 2nd mortgage which does a few things. It's lowers their monthly payments so homeowners can afford to stay in the home and it creates equity in the property again allowing the homeowner even more options to stop foreclosure.
Jarad says this new solution has been a huge success and has settled millions in notes already for homeowners across the nation. He says it works in any state as long as the homeowner has a 2nd or 3rd mortgage.
To learn more one can visit http://www.foreclosureuniversity.com/settleyournote