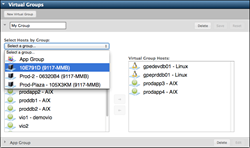 Galileo users are highly encouraged to install the new agent as soon as practical to ensure uninterrupted data collection.
Malvern, PA (PRWEB) September 05, 2013
Galileo Performance Explorer™, a cloud-based performance-monitoring tool for server and storage systems, has released three new important updates for existing users. Two updated storage agents enhance Galileo capabilities with IBM® SVC/V7000 and with IBM® DS3/4/5K storage hardware, and new Galileo Virtual Group Editor functionality enhances the user experience in the Galileo portal.
The updated SVC/V7000 agent accelerates collection and display of cluster configuration data, enabling users to track and report changes within 20 minutes vs. the 8-24 hours previously required. "Because of recent changes to the SVC/V7000 code, Galileo users are highly encouraged to install the new agent as soon as practical to ensure uninterrupted data collection," says Tim Conley, co-founder of Galileo Performance Explorer™. The updated agent for DS3/4/5K storage improves data archiving performance and addresses several other minor enhancements. Both agents are available to current Galileo users at no charge.
Improved functionality for Galileo's Virtual Group Editor delivers benefits for large server environments, including faster load times and easy icon identification of monitored systems—now viewable in ALL web browsers. New search functionality for adding to Virtual Groups now includes the ability to select from a drop-down list or to simply start typing a systems name.
These latest Galileo capabilities are accessible for evaluation via a free 30-Day Trial program.
About Galileo Performance Explorer
Galileo Performance Explorer™ improves IT utilization and capacity planning with convenient cloud-based performance monitoring. Galileo delivers hundreds of analytical perspectives on server and storage hardware and virtualization environments for key decision makers. These deeper insights go far beyond reactive alarms to support optimal performance of physical and virtual servers and storage, supporting IBM® AIX®, Linux®, Windows®, and IBM® SVC, Storwize® V7000, and DS3/4/5K storage. Built on an innovative SaaS architecture, Galileo installs in minutes, without onsite data or expensive hardware requirements. Automatic collection of real-time data, with quick, easy, graphical reporting via an intuitive web interface, offers access to custom dashboards with full drilldown into data details, anywhere, anytime. Galileo empowers users from IT administrators to C-level management at mid-size to Fortune 100 companies, including leaders in security-sensitive industries. Galileo is the product of efforts by the ATS Group, an IBM® Premier Business Partner.