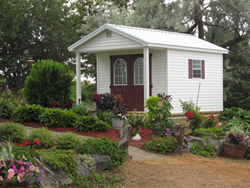 The goal is to increase sales by up to 50% over the next few years.
Fargo, North Dakota (PRWEB) February 14, 2017
Northlands Storage Sheds of North Dakota recently began to take steps to expand. While they have been providing storage sheds for a number of years, the company wishes to push further into the shed market in North Dakota.
Northland Sheds is based in Milbank, South Dakota. However their reach goes far beyond that small town. They are active in South Dakota and throughout North Dakota. The company is also present in Minnesota and Iowa. Spread out over this large area, Northland has over 15 sales lots, included in cities like Grand Forks, Fargo, Detroit Lakes, and Pierre. Over the next few years they hope to add a few more storage sheds lots as well as increase the traffic to their website.
The Northland Sheds owner, Derek Wipf, is passionate about providing quality storage buildings at an affordable price. The sheds are produced from high quality products and built by skilled craftsmen. Derek wishes to see his customers happy. He emphasizes going the extra mile to help a customer find a quality shed as well as work with their budget.
This thrust to provide affordable quality, is key in Northland's effort to expand. Over the last few years they have delivered and sold 100s of sheds and made many happy customers in ND, SD, MN, and IA. This has created more demand for Northland product and services. The goal is to increase their shed sales by up to 50% over the next few years.
A big step to increase sales has been to hire a marketing company to boost Northland's online presence. Derek contacted the marketing agency in January of 2017. Shortly thereafter they signed a contract to set a monthly budget. The agency is implementing CRM (customer relations management) software, optimizing the google searchability of the site, improving the performance of the website overall, increasing social media activity, and brainstorming a growth strategy for Northland Sheds. This agency's proven track record in the shed marketing industry suggests success is in the pipeline for Northland.
The new marketing effort seeks to help customers on their journey in finding storage solutions that will make their backyard great and beautiful. It will provide automated marketing features to save office time and help customers understand what Northland Sheds has to offer.
Northland is aiming to for a more developed and effective marketing program that will increase their customer reach. Their quality and affordable storage sheds have the potential to serve the needs of people in ND, MN, IA, and SD. Derek has his work cut out for the next few years, but he is excited what it will do for his shed company and those he serves.