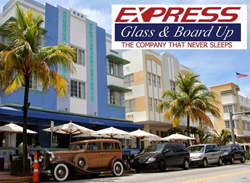 This time of year, chain stores do everything they can to personalize the holiday shopping experience
Miami, FL (PRWEB) December 16, 2015
December 16, 2015 - Miami, FL
Express Glass & Board Up, a top rated window repair and replacement service, is proud to announce that they have issued a holiday reminder to Miami residents. Small business Saturday is the start of the 2015 holiday shopping season. Shopping at family-owned restaurants and businesses offers a community connection chain stores cannot replicate.
"This time of year, chain stores do everything they can to personalize the holiday shopping experience," explained Yaniet Santos, general manager of Express Glass. "We'd like to remind people that nothing beats the quality customer service of a locally-owned business. From shopping for gifts to surprising someone with a new glass front door, small businesses do it the best."
To read the blog post and advocacy document about holiday shopping at local businesses, go to- http://www.expressglassfl.com/blog/glass-window-repair/please-supportbig-icky-chain/.Information about independent businesses offering the best customer service from holiday gifts to front door glass repair and replacement is available.
Miami Community: From Glass Front Doors to Restaurants, Small Businesses Offer the Best Holiday Shopping Experience
Miami locals have begun to search for special gifts and services for the holiday shopping season. Surprising a loved one with a unique present such as upgrading a glass front door requires a personal touch. Miami's independent businesses share a special connection with customers and recognize patrons by sight instead of chain store computer profiles. Miami's family-owned restaurants and services may be the best at understanding the unique needs of Floridians.
Express Glass has issued a reminder to the Miami community to support small businesses during the 2015 holiday season. Locally-owned restaurants, shops and services, have been established as community supporters as well as small businesses. Special holiday gifts require specific attention to the individual needs of Florida residents. When door glass breaks, a local front door repair professional offers personable service not easily replicated by a large corporation. The best way to spread holiday cheer is giving a gift from a local business that does not require a computer screen to remember a customer.
About Express Glass Repair and Board Up
Express Glass and Board Up Service Inc. is a family owned and operated glass repair business with more than 20 years of experience. Their professional technicians and the large variety of inventory make Express Glass the top glass repair service. If customers are looking for Miami front door repair or Miami sliding glass door repair as well as window repair in Delray Beach or West Palm Beach glass door repair, please reach out to the company for a free estimate. If customers need a 24/7 Sliding Glass Door repair service in Miami or Boca Raton or Miramar, technicians are standing by. The company specializes in sliding glass door repair, storefront glass door repair andreplacement. Home or business glass repair is the company's main priority.
Express Glass Repair and Board up
http://www.expressglassfl.com