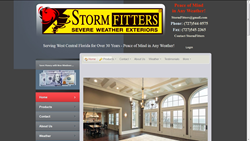 We believe that storm shutters and custom panels provide better protection to home or business than conventional plywood.
(PRWEB) May 29, 2015
Stormfitters is a tested expert in manufacturing and installing storm abatement products in home, and commercial facilities in Florida. They provide and deliver high quality hurricane and storm shutters, hurricane protection, door and window replacement, and sliding doors at competitive prices. There is a team of trained and dedicated professionals that are willing to take on complex assignments.
Replying to a question related to window replacement services, one of the executives at Stormfitters stated, "Whether condominium owners, homeowners, commercial property owners, property managers to real estate developers or builders, we are the one stop for products and services. We utilize the highest quality cost-effective brands for impact windows, new construction windows, storm windows, and architectural windows along with retrofit vinyl windows. Moreover, we are licensed for every type of structure, even high-rise buildings".
At Stormfitters you will find windows from trusted brands such as PGT (Venice, FL), CWS, Anderson Windows, Silver Line Windows and Simonton to name a few. From start to finish the storm-abatement solution provider ensures products and services that save money and protect investment. In addition to the storm panels, Stormfitters will also provide fabric hurricane panels for complete protection. Comprised of PVC coated fabric, the panels are tested to ensure they block wind, rain, and other storm-driven projectiles; thus becoming a highly effective alternative to traditional hurricane panels.
The executive further stated, "We believe that storm shutters and custom panels provide better protection to home or business than conventional plywood. Pre-drilled and custom fitted windows or doors save precious time when storms threaten; and we are not the only ones to say so. According to the Florida Division of Emergency Management's Bureau of Mitigation, shuttering sliding doors is one of the most effective ways to protect from flying debris and can help with water intrusion".
With roll down shutters, electric shutters, lexan panels, aluminum panels, galvanized panels, stainless steal, and more to offer, Stormfitters is the number one trusted solution provider. These products are well known to suppliers, code authorities, and others to help customers with the optimum combination of storm protection. For more information on the matter, visit http://www.stormfitter.com/about-us. And if you'd like to contact Stormfitters for any matter, visit us at http://www.stormfitter.com/contact-us.
About Stormfitters:
Based in Florida, Stormfitters has a reputation for offering storm abatement solutions at reasonably prices. Since it's beginning, the storm abatement solutions provider has successfully completed over 15,000 projects in Florida. Stormfitters has a team of highly dedicated expert professionals, they are well versed with the nuances of the trade. At Stormfitters customers will find high quality hurricane and storm shutters and other hurricane protection such as impact rated superior quality windows and doors.
More about it at: http://www.stormfitter.com/products
Contact Information:
StormFitters
2501 Anvil St. N.
St. Petersburg, FL 33710
FL Lic# CGC 1516020
Phone: (727)544-0575
Fax: (727)545-2365
Mail: StormFitters@gmail.com
Web: http://www.stormfitter.com/
# # #