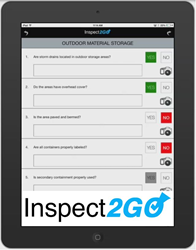 Inspect stormwater with an app...report in the cloud
Orange County, California (PRWEB) September 22, 2016
Inspect2GO, a leader in mobile inspection apps and cloud reporting software, today announced a new solution for public utilities and environmental agencies. Specific applications include stormwater, wastewater, grease trap, sewer, septic and others (see http://inspect2go.com/stormwater).
Field inspection data is entered into the system on a native mobile app, without the need for a data connection. Inspection checklists and workflows are customized to meet each agency's specific needs. Corrective actions are noted, and re-inspection dates are automatically logged in the scheduling software. Customers work directly with Inspect2GO to tailor the system to their unique requirements.
Applications

General Capabilities

Custom – Tailored to fit the unique local needs of municipalities and public utilities
Compliance - Regulatory and environmental compliance
Scheduling - Corrective actions, re-inspections and follow-up tracking
Mapping - GPS and Geotagging
App - Offline capable mobile app for iPad, SurfacePro or Android tablets
SAAS - Subscription-based, Software-As-A-Service with cloud database
Checklists - Custom checklists, inspection forms and data collection work sheets
Reporting - Web-based portal with editable reports, custom dashboards and advanced analytics
About Inspect2GO
Inspect2GO, Inc., (http://inspect2go.com/stormwater) offers state-of-the-art inspection management and permitting software that combines mobile, cloud and database technology. Inspections are conducted on a native mobile app that's easy to use and functions anywhere, offline, without the need for data connectivity. Inspection data is stored in the cloud, or on the customer's server. The cloud-based inspection management software enables scheduling, ad-hoc reporting, data analytics, complaint management, mapping, accounting/invoicing, permitting/licensing and other management functions. The subscription based software is sold as a SAAS (software as a service) product.