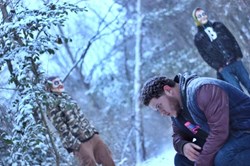 New York, NY (PRWEB) January 16, 2014
At just 18 years old Stormy English is one of the most promising new music talents of 2014 in the hip-hop genre. The young artist is capturing the minds and imaginations of listeners of all ages. His versatility in writing, creating his own music to directing his first music video makes him a very unique artist in the hip-hop community. A word that comes to mind when attempting to describe Stormy English is mysterious. What he's doing is pure musical art at one of the highest forms of Hip Hop, taking his listeners and their ears on a lyrical and at the same time an introspective journey.
The mysterious Midwest teenager is an up and comer that has been working for months in the studio on his debut online album, "Saturday Escape." The album has a projected Spring 2014 release date via iTunes. Saturday Escape will be a full length album consisting of 13 unique songs all written by English. The album is English's way of escaping reality, and inviting the listener to join him on his adventure. Each song has its own tale and strong personal message behind it that will create a journey for the listener's ears; only if they are willing to follow English on the introspective journey. With just 2 singles released so far, Stormy English is ascending quickly. His debut release "Sunny Out," which came out only a month ago, is already collecting praise in the indie and underground music scenes alike. "Sunny Out" has been an indie success and is gaining more attention due to the lyricism of the verses, and the sound of the tune. To read more about the acclaim Stormy has received visit this link http://www.newundergroundmusic.com/hip-hop/stormy-english/ and additionally http://www.newundergroundmusic.com/hip-hop/stormy-english-2/.
Stormy English's second release: "Lost In Translation" came out only 2 weeks ago, and is already turning heads in the hip-hop industry. Lost In Translation surrounds Stormy English with even more mystery and wonder. Throughout the song, it is apparent English is obviously burdened down with something. Confused, dazed, and wandering aimlessly; what exactly is unfolding throughout the song? Many interpret it as Stormy running from himself, or even his demons and inner-monsters. The official music video to "Lost In Translation," has the young artist take the listener on an audio/visual journey. Throughout the film it's evident that he's lost. Being followed by masked individuals, it's almost as if those are his demons following him. The song and video were both written, performed, and directed by Stormy English. The video will have fans at the edge of their seat waiting to see what's going to happen next. With a surprise twist at the end of the video, it leaves fans wanting more from the 18 year old hip-hop phenom.
To see the music video, visit Stormy's YouTube page. To learn more about this new artist and inquire about booking, visit his website at http://www.stormyenglish.com/.