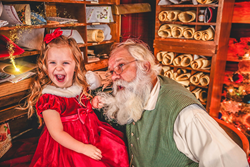 "The most wonderful and beautiful experience. The new location is nothing less than perfection."
West Islip, New York (PRWEB) December 27, 2016
Facebook lit up like a Christmas tree when scores of mothers took to praising Kristen and Greg Pitre's Santa Experience photography. Expressions of amazement were common as was the recognition that this is a truly special experience.
One of the mothers, Nicole, commented, "My son truly believed in all the magic so much so that he thought he heard Santa's sleigh as we left the building and even spotted him in the sky!!"
The Pitre's believe that the real joy of Christmas is family, and that families yearn for those days where laughter and childhood mirth and mischief were the foundation of family unity and joy. The feeling is reminiscent of Norman Rockwell's warm characterizations, and it is this feeling that the Pitre's give to their photography and to the children who come for the Santa Experience.
As Elizabeth, another mom put it, "Sometimes it's the experience, more than the photography that makes our memories."
Thousands of families have enjoyed meeting and interacting with holiday characters like Santa himself and the Easter Bunny. Bookings are difficult for both of these events as popularity for the photo sessions is becoming historic. Mothers and fathers, who have enjoyed a session with Kristen, photographers and staff, can't wait to re-book for another Christmas or Easter session. Repeat business is becoming commonplace, and everyone cannot wait to find out when the next experiences will be.
While the first few thousand sessions were held at their home, the Pitre's have now moved their unique service to a building at 475 Montauk Highway in West Islip. Here, they have transformed the property into a magical kingdom with a variety of sets, backdrops and scenes where children get to live their fantasies while Kristen creates photographic magic for their parents.
As Jessica said "The most wonderful and beautiful experience. The new location is nothing less than perfection"
Deanna says "We just had our experience today and the staff and Santa Claus were lovely. It was even a pleasure meeting the owner who treats you as if she knew you for years. The entire experience is enchanting from the first hello to the decor, music, and magic!
As Michelle observed, "Doing anything with a 5-month old can be challenging, especially taking photos, yet Kristen and her staff managed to make it a fun and enjoyable experience."
Maria commented "The entire staff was SO friendly. The experience was awesomely planned. They thought of every single last detail. The director, photographer and santa were all super amazing. I couldn't stop smiling the entire time and neither could my little one. Most importantly, the photos came out SUPER AMAZING!! We are in love and so happy we had the opportunity to experience this."
In addition to the Santa Experience and Easter experience (they call it Egg-perience), the enormous popularity has led to an expansion of themes Greg and Kristen have renamed and trademarked their business "Storybook Experiences" and are to include Storybook Experiences like Princess, Pirate, and Peter Pan Experiences, The Pitre creativity and professionalism will create more photo opportunities for parents eager to see genuine smiles and laughter, fun and excitement from their young children.
The effects are lasting. Tara's son had this to say to her: "Mommy, I want to see the Easter Bunny again ... and the pretty lady." And even moms love the magic. As Diana commented, "I cried the whole time. Meeting the real Santa was everything I expected and more."
If interested in a one of a kind experience then I suggest you get on their 2017 Storybook Experience waiting list and find out whats to come!