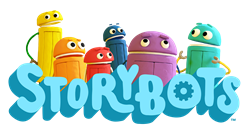 In only twelve months, families in 179 countries around the world have visited StoryBots over five million times. - Gregg Spiridellis, co-founder and CEO
Venice, CA (PRWEB) September 25, 2013
StoryBots, the collection of apps for kids and family from the creators of JibJab.com, Evan and Gregg Spiridellis, is celebrating its one year anniversary today, sharing highlights of its success with its subscribers and fans.
"In only twelve months, families in 179 countries around the world have visited StoryBots over five million times," said co-founder and CEO Gregg Spiridellis. "We created StoryBots for our own kids and families, and we're thrilled so many others have joined us for the ride!"
Other notable milestones announced today include:

18 Million Learning Videos Viewed
5 Million Starring You Story Books Read
800K Beeps and Boops Given
600K Starring You Videos Created
500K Songs Played on Tap & Sing
Parent's Choice Award Winner
National Parenting Center Seal of Approval recipient
Family Choice Award Winner
Children's Technology Review Editor's Choice recipient
An infographic of StoryBots' growth metrics is available at An infographic of StoryBots' growth metrics is available at http://www.blog.storybots.com/oneyear.
StoryBots credits its successful following to its investment in creative programming. "We believe that quality is going to be the winning ingredient in the race to create the new equivalent of Sesame Street for a connected generation," said co-founder Evan Spiridellis, "which is why we invest so heavily in our creative programming."
In the past twelve months, the Spiridellis brothers and their team of 50 full-time artists, technologists and business people, along with their network of over 100 artists around the world, have launched 9 apps featuring 175+ videos, books, songs, activity sheets and more. In anticipation of the holidays, the team is bringing JibJab's experience producing original, seasonally themed programming to its upcoming line of StoryBots holiday experiences.
"We have an amazing holiday line up of personalized Starring You® Videos and Books coming for Halloween, Thanksgiving and Christmas," said Gregg Spiridellis. "We can't wait to share what we're creating with the StoryBots audience – most notably our own kids!"
To learn more about StoryBots, visit StoryBots.com.
# # #
About StoryBots
The StoryBots are brightly-colored, infinitely curious little creatures who live in the world beneath our screens. They are standing by, anytime, anywhere, in our iPhones, iPads and computers, to lend parents a hand with fun, safe, educationally-themed content for kids (ages 3-7), as well as tools that enhance the parenting experience. With music, art and stories designed to entertain grown-ups as much as children, StoryBots is more than just an educational app company -- it's about a lifestyle that makes kids and parents happier. StoryBots is part of JibJab Media, and was created in August 2012 by brothers, dads and co-founders Evan and Gregg Spiridellis, who are Internet pioneers and co-creators of one of the web's most recognized brands, JibJab.
The StoryBots "Happy Kids" product line includes Starring You® Videos, Starring You® StoryBooks, Activity Sheets, ABC Videos, Learning Videos and Tap & Sing. The "Happy Parents" product line includes Beep & Boop™, KidQuoter™, Coin Flip, Share Timer and Kids Radio. All apps are free to try and include free sample content. An "All-Access Family Pass" provides unlimited use of all 9 StoryBots apps, featuring 31 books, 42 videos and hundreds of activity sheets, all for only $4.99 a month, with new content added every month. This single-price approach provides peace of mind for parents, knowing their children are learning and playing in a safe ad-free environment with no additional in-app payments.
Visit StoryBots at http://www.StoryBots.com. For logos and images, please visit: http://blog.storybots.com/storybots-press-kit/.
About JibJab Media
JibJab is in the business of making things that make people laugh. From personalized Starring You® videos to eCards and political satires, JibJab has been creating world-class online entertainment since 1999. With the audacious goal to make billions of people happy, the company has recently focused its cutting edge creative and production leadership on the children's learning and entertainment market with the launch of StoryBots®. To learn more, visit Blog.JibJab.com/About or StoryBots.com/for-parents.
JibJab®, Starring You!®, StoryBots®, Beep & Boop® and KidQuoter™ are trademarks of JibJab Media Inc. in the United States and other countries.
Apple®, iPad®, iPhone®, iPod® and iPod touch® are trademarks of Apple Inc., registered in the U.S. and other countries.
The names of actual companies and products mentioned herein may be the trademarks of their respective owners.