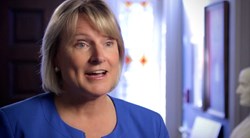 I like when somebody has a story to tell but can't figure out how to tell it.
Washington, D.C. (PRWEB) December 17, 2013
Story Store Media was invited to take on the challenge of creating a video production highlighting the story of some the most powerful storytellers in D.C. What followed was a video feature of Allyson Burns, Senior Vice President of Communications at Case Foundation & Revolution, LLC; Pam Jenkins, President of Powell Tate; and Hillary Rosen, Managing Director of SKD Knickerbocker that captures the momentous passion and drive of three outstanding women and how they depict their journey.
Speaking from the Sewall-Belmont House & Museum, headquarters for those who won voting rights for women in 1920, Burns, Jenkins, and Rosen recount how they passionately pursued their interests to the top.
Describing the appeal of public relations, Rosen notes, "I like when somebody has a story to tell but can't figure out how to tell it." Never an issue for these women, they describe the mentors that guided them, advice that steered them, and work ethic that powered them to the success.
2013 Woman in Public Relations of the Year, Jenkins remembers her first boss in Washington, Patricia Barrio, the first female Deputy Press Secretary in the White House, showing her, how to "walk into a room and say the unpopular thing". Today, we know that to learn from the best on how to walk into a room and make a difference, we need to look no further than these engaging women.
Thanks to Washington Women in Public Relations for inviting us to share these stories and be part of such a significant event.
ABOUT STORY STORE MEDIA:
Story Store Media is a video production and communications company in Alexandria, VA founded by Paul Borostovik and Corey Petree. Paul and Corey opened the doors of Story Store Media after over 40 years combined experience in film and video production, serving clients from NASA to National Geographic, the U.S. Census Bureau to AOL and dozens of other corporations and associations. The multi-award-winning pair craft television commercials, documentaries, music videos, video for events, broadcast and the web – anywhere video can be used to tell a Story.
Experience, judgment and expertise govern every little decision at Story Store Media. Understanding how to leverage motion media to fulfill client needs drives their vision of Stories that need to be told. Find out more at http://www.storystoremedia.com/, Like us on Facebook: https://www.facebook.com/StoryStoreMedia and follow us on Twitter @storystoremedia.
ABOUT WASHINGTON WOMEN IN PUBLIC RELATIONS:
Washington Women in Public Relations (WWPR) is a vital resource for communications professionals in metropolitan Washington, D.C. With a thriving membership base and a slate of highly anticipated annual events, WWPR is committed to delivering outstanding professional development, networking, marketplace positioning and leadership opportunities to area communicators. Find out more at http://www.wwpr.org, "Like" them on Facebook.com/WashingtonWomeninPR, join their group on LinkedIn, and follow them on Twitter @WWPR.
SOURCE: Story Store Media