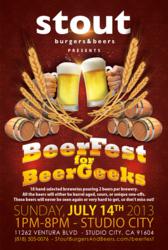 Studio City, CA (PRWEB) July 07, 2013
This will not be your ordinary beerfest, all beers will either be barrel aged, sours, or unique one-offs. These beers will be extremely difficult to come by again, if at all. Aside from that, Stout plans to bring the "beerfest" to a new level. Just like they've taken the average hamburger and made it extraordinary by adding a gourmet flair to it, they plan on taking your average beerfest and adding a touch of class to it.
The event will take place on Sunday July 14, 2013 at:
Stout Burgers and Beers
11262 Ventura Blvd
Studio City CA 91604
Tickets are limited and will be available for $60 pre-sale $70 at the door (if available). Price includes unlimited 2oz pours for your session and there will be two sessions, 1 - 4pm and 5 - 7pm.
Here's a list of the Breweries that will be attending:
Stone – San Diego, CA
Drakes – Oakland, CA
Allagash - Maine
Anderson Valley - Boonville, CA
Epic - Salt Lake City
Sierra Nevada - Chico, CA
Ballast Point - San Diego, CA
Dogfish Head – Delaware
Firestone – Paso Robles, CA
Hanger 24 – Redlands, CA
The Bruery - Orange County, CA
Avery - Colorado
Jolly Pumpkin - Michigan
New Belgium - Colorado
Grand Teton - Idaho
Ohana - LA
Smog City - Torrance, CA
Lagunitas - Petaluma, CA
http://www.stoutburgersandbeers.com
http://www.stoutburgersandbeers.com/beerfest