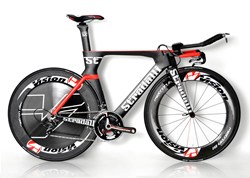 The Phantom II frame is the most aerodynamic TT frame we have ever produced.
Pompano Beach, FL (PRWEB) July 30, 2013
Stradalli Cycle, the affordable high performance carbon bicycle manufacturer, is pleased to announce the release of the 2014 Stradalli Phantom II full carbon fiber time trial bike. The bike uses the most aerodynamic TT frame Stradalli has ever produced.
The Phantom II frame, which is Stradalli's most aerodynamic TT frame to date, has several revolutionary features which reduce drag. Stradalli designed a bayonet style fork that slices through the air and also relocated the TRP front brake to the back side of the fork. Using an integrated fork, stem, and handlebar design the triathlete has a near perfect aerodynamic position while ensuring some of the lowest exposed frontal surface area on the market.
There are also a change to the design of the seat tube which now provides great shelter for the rear wheel. To further reduce drag, the Phantom II's TRP rear brake is tucked in underneath the oversized chainstays which increases the aerodynamics of the frame.
The Phantom II is built around a BB30 bottom bracker which offers incredible stiffness out of the crank and the oversized chainstays allow the rider to transfer more power from the pedals to the wheel.
"The 2014 Phantom II based triathlon bike demonstrates the latest innovation from Stradalli. We are proud that our bikes and frames are on the leading edge and yet are priced for consumers," said Thomas Steinbacher, CEO of the Stradalli Cycle Company. "The Phantom II frame is the most aerodynamic TT frame we have ever produced. Innovations like moving the TRP brakes into the most aerodynamic positions means that this frame can help riders shave valuable time off of every race."
The Phantom II frame is made from 100% high modulus carbon fiber and is available as part of a full bike in a variety of configurations including with Shimano, SRAM or Campagnolo components and Stradalli 85mm/50mm carbon aero wheels.
About The Stradalli Cycle Company
The Stradalli Cycle Company is based in Florida and sells worldwide to the keen athlete who demands the best equipment. With years of experience in both high tech manufacturing and design as well as a passion for cycling, Stradalli brings passion and innovation to the road racing and mountain bike markets.
Contact
stradalli.com