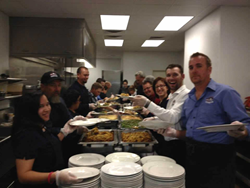 'As a company we are excited to see the event grow each and every year. Our employees and customers join together and provide a spectacular venue to support the community in a unique way.'
Placerville, CA (PRWEB) June 04, 2014
The Food Bank of El Dorado County relies on its community donors to ensure its continued annual operations. Corporate sponsors like Straight Line Roofing & Construction allow the Food Bank to carry out its mission of Preventing Hunger – Providing Hope throughout El Dorado County. Straight Line has been an avid supporter of the Food Bank since 2006. Each year, Straight Line hosts its Annual Appreciation Party with the goal of generating thousands of dollars in donations to benefit the Food Bank. This year, Straight Line Roofing & Construction donated $10,000 to the Food Bank. Hopefully their commitment to the community may inspire other businesses and organizations to join in the fight to end local hunger.
Straight Line Roofing & Construction is a local roofing company that strives to give back to the community. Mike Sproull Food Bank Founder says "Straight Line Roofing is an exemplary sponsor for the Food Bank and every year they are committed to our at-risk population."
Straight Line Roofing & Construction Owner Jack Borba says, "As a company we are excited to see the event grow each and every year. Our employees and customers join together and provide a spectacular venue to support the community in a unique way."
Straight Line Roofing and Construction offers commercial as well as residential services in Sacramento, Placerville, and the surrounding region for roofing and roof repairs, construction and additions, windows, skylights, solar, insulation, gutters and leaf guards, painting, decks, and siding,
Quality service is top priority at Straight Line. The commitment to customer satisfaction has built a reputation of reliability and honesty, earning respect from suppliers, fellow contractors and homeowners.
For more information about Straight Line, call 530-672-9995 or visit the Straight Line Roofing website.
Food Bank Communications and Development Director Carey Fong is proud to work with Food Bank sponsors such as Straight Line Roofing and Construction. "Thank you Straight Line, your annual partnership with the Food Bank is a stimulus to local businesses aspiring to give back to our community; ensuring continued community support to those who need it most."